How Sitecore's Personalization Features Can Help You Grow Your Business Faster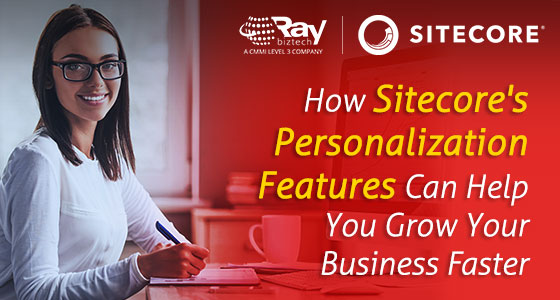 Because of sitecore's strong personalisation features, business leaders and marketers who want to drive corporate growth pick Sitecore as their digital experience platform (XP). By creating rules that cater to diverse goals, criteria, or engagement strategies, Sitecore XP empowers teams to offer targeted and relevant content to their audience.
For digital marketers trying to improve the customer experience, targeting and personalisation go hand in hand. While content comes out on top, marketers are now focusing their efforts on making content more relevant to each end user. Every aspect of the digital experience is created with a special focus on the customer's preferences, based on two types of personalization. From the page layout to the images shown or products recommended, every aspect of the digital experience is created with a special focus on the customer's preferences. Personalization is handled in two ways on Sitecore's platform: implicit and explicit.
Implicit Personalization
The visitor's behaviour is the focus of implicit personalisation. Consider the following scenario:
What are the pages they're looking at?
What links did they select?
What links pique their interest?
All of these activities imply a level of curiosity. This allows relevant content to be displayed alongside a message such as "You might be interested in..."
Explicit Personalization
Explicit personalization, on the other hand, is based on specific facts, such as a user's geographic location. By continuously tracking implicit and explicit user behaviour, you can now dive deep into personalisation. Sitecore provides all of the capabilities needed to develop complex personalisation scenarios that will lead your customers down the conversion path. You and your team may design the parts of your content and curate user journeys using a simple model that grows. As you get experience with personalization and learn what works, you'll be able to add sophistication and align the right strategy and objectives.
Improve Customer Experience and Increase Revenue with Sitecore Personalization
There is no such thing as a one-size-fits-all approach to personalization. It's all about ongoing testing and experimentation. It requires analysing high-quality, abundant data, being inventive, and viewing the experience through the eyes of customers. Here are some helpful personalization strategies to get you started.
Start with a plan and stick to it
Personalization is a long-term endeavour that demands dedication. While you may be anxious to get started right away, you must first plan. Make sure to decide and set goals, as well as to comprehend who you're personalising for and why, and to establish success metrics. It's critical to set realistic timetables for reviewing and improving your personalisation at the same time.
Learn, Learn, and Then Learn Some More
Personalization needs a steep learning curve to get started. There are numerous aspects to consider when using Sitecore XP. Fortunately, there are a number of resources that can assist you. To get started, consider partnering with a company that can provide you with the resources and knowledge you need to get the most out of your Sitecore investment.
Identify Use Cases That Have a Big Impact
Personalization can be applied to a variety of scenarios. As previously stated, choosing who you will provide experiences to and why is an important first step. Think about value for the end-user, always.
Re-evaluate and enhance on what you've done in the past
The journey to personalization is best accomplished through an iterative and growing process in which you may reflect on the successes of previous efforts and make any necessary adjustments to enhance. Take what you've learned from your mistakes and try again. Personalization in Sitecore is based on both explicit and implicit behaviour. It enables you to create a unique client journey based on behavioural trends. It's important to begin with thorough preparation and documentation of the customising process.
Boosting Brand Advocacy and Expansion
Starting with the initial interaction, successful organisations have increased the standard for customer experience. That, however, is merely the beginning. Customers learn about your business and see if you're going to deliver relevant experiences to earn their trust through post-purchase behaviours. Sitecore's extensive range of capabilities can help you create an excellent customer experience and successful marketing campaigns to maximise your efforts. Any e-commerce site should emphasize meaningful involvement and strong customer relationships. When executed properly, this leads to an increased conversion rate, greater revenue, and a better overall customer experience.
To revolutionise the way any user views your website and give a never-before-seen user experience for long-term success, reach our Sitecore certified experts immediately.
About Ray Business Technologies
Ray Business Technologies is a leading global Information Technology (IT) Services and Solutions, a CMMI Level 3, ISO 27001:2013 Certified Company. We are a Member of NASSCOM, HYSEA, NJTC, and AIIA. Ray Business Technologies offers comprehensive end-to-end IT Services for Business Application Development, Enterprise Solutions, Enterprise Collaboration Services, Testing and Quality Assurance Services, Cloud Computing and IT Infrastructure Management to organizations in the Banking & Finance, Insurance, Healthcare, Manufacturing, Retail, Media & Entertainment, Leisure & Travel, Telecom and Energy & Utilities verticals as well as Independent Software Vendors.