How does Sitecore DXP Platform enable the Banking and Financial Sector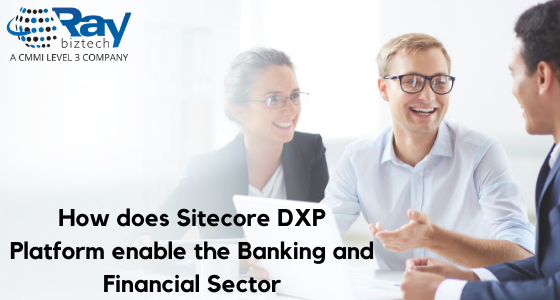 Customers' interactions with brands have changed dramatically as a result of the pandemic, and the financial industry has been the most affected.
The number of Digital Transactions has increased significantly. "According to a recent eMarketer report, more than 75% of Americans use digital banks, with that number expected to grow to 80% by 2024".
Digital Experiences have become a crucial distinction for clients when it comes to choosing their chosen banking and finance services provider in today's environment. To create trust and build long-term connections, the BFSI sector must give tailored experiences to clients throughout their customer journey. As more financial firms adopt a 'Phygital (Physical & Digital)' operating model, it's become critical for them to get a 360-degree perspective of their customers' behaviour across touchpoints in order to produce contextual messages that meet their changing needs.
"As per Gartner's CIO Survey 2021, Banking is the most advanced industry in terms of its Digital Journey toward digitized processes and Digital Revenue".
A robust digital experience platform, with features like marketing automation, personalization, and customer journey mapping tools, has emerged as a must-have technology for businesses looking to maintain their growth and client retention rates.
Marketing Automation
There is considerable renewed focus on Marketing Automation, to enable brands to streamline their marketing initiatives and campaigns with ease. Sitecore's Marketing Automation tools help marketers to evaluate customer behaviour and actively execute end-to-end automated campaigns to nurture customers throughout their customer journey.
With marketing automation analytics, banking and financial institutions can analyse critical data and segregate customers based on their behaviour, preferences and demography to drive targeted campaigns for greater customer engagements.
Personalization
With the rise of digital banking, users can now accomplish financial transactions through their preferred channel, such as a mobile application or a website. As a result, organisations must now focus on providing contextual customer experiences across all touchpoints.
According to the Sitecore study, one-third of marketers have increased their focus on personalisation in the past year.
Brand marketers can segment their audiences based on their traits and behaviour, as well as their previous contacts with the brand, and provide relevant communications through the right channel and at the right time, thanks to Sitecore-powered customization.
Sitecore Experience Edge
Companies in the banking and financial sectors must stay in touch with their consumers on a regular basis to give important account information, compliance information, and data about special offers, among other things. This necessitates a flexible CMS that is simple to deploy and has fewer developer dependencies. The Experience Edge from Sitecore is a headless CMS that lets brand marketers generate and share content at scale across all customer touchpoints.
Customer Data Platform (CDP)
Sitecore's Customer Data Platform (CDP) includes Intelligent Automation and Predictive Analytics technologies, allowing brand marketers to use real-time customer data for sophisticated targeting and segmentation. The CDP platform interacts seamlessly with Sitecore's DXP, giving marketers access to in-depth consumer insights and data, allowing them to make smart personalization decisions based on the specific needs of each customer.
The CDP data may be accessible from a variety of devices and systems, allowing different banking departments such as presales, marketing, and customer care to provide clients with contextual messaging at every point of contact.
Sitecore's Composable DXP
Rapid digitization has cleared the door for the development of newer disruptive technology-based innovative tools and technologies that improve customer experience. The legacy software of tomorrow is bringing the banking sector face to face with the prospect of relevant technology for today. Sitecore's Composable DXP architecture is designed to protect your digital investments in the future.
It helps brands to modify their existing tech stack by integrating the latest tools and technologies with a simple cloud or API integration by leveraging a microservices-based architecture. Composable DXP gives BFS brands the freedom to try out new tools and come up with new methods to create exceptionally engaging digital experiences to their customers.
Sitecore's DXP has emerged as a one-stop platform for generating outstanding customer experiences in the banking and financial sectors, thanks to its cutting-edge tools and capabilities.
For more queries on Sitecore DXP, get in touch with us at [email protected].
About Ray Business Technologies
Ray Business Technologies is a leading global Information Technology (IT) Services and Solutions, a CMMI Level 3, ISO 27001:2013 Certified Company. We are a Member of NASSCOM, HYSEA, NJTC, and AIIA. Ray Business Technologies offers comprehensive end-to-end IT Services for Business Application Development, Enterprise Solutions, Enterprise Collaboration Services, Testing and Quality Assurance Services, Cloud Computing and IT Infrastructure Management to organizations in the Banking & Finance, Insurance, Healthcare, Manufacturing, Retail, Media & Entertainment, Leisure & Travel, Telecom and Energy & Utilities verticals as well as Independent Software Vendors.