How does Sitecore help Digital Transformation?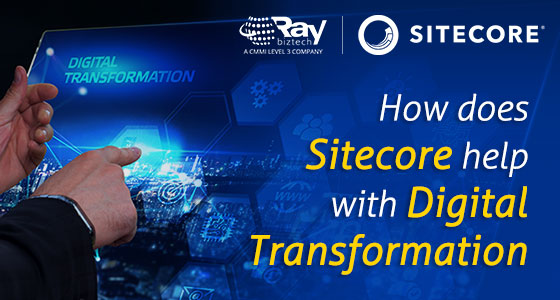 Disconnected teams are one of the most significant barriers in creating exceptional client experiences. The gap between marketing and IT is well-known when it comes to online experiences. In one survey, 97% of business users agreed that a project's lack of team alignment has an impact. Other studies have backed up the benefits of linking the two. When marketing departments integrate IT into more agile teams, their companies go to market 2x–4x faster and grow revenue twice as fast as the S&P 500.
It's one thing to know the truth; it's another thing entirely to get people to act. Many businesses have long recognised that digital transformation is critical to their survival. They're also aware that success will necessitate collaboration between IT and Marketing. Despite this, they have postponed both. Until now, when it should have happened a long time ago.
Sitecore has announced its most exciting product range yet, providing organisations with access to the most cutting-edge technologies, all in one place, to connect Marketing and IT for digital transformations that generate value today and lay the groundwork for future success.
Making life easier for IT
Our product teams have heard from developers in the last year or so that they desire container infrastructures, headless development for.NET developers, ASP.NET Core support, and improved serialisation tooling.
The enhanced developer experience of Sitecore Experience Platform(XP) 10 is our response.
Teams may now employ infrastructure-as-code deployments for simplified installation and deployment, lower cloud infrastructure costs, hosting flexibility, and easier management of numerous Sitecore instances thanks to the Docker Containers option.
Customers and partners alike have stressed the importance of freedom and choice for sitecore users. Sitecore's new ASP.NET Core SDK adds to Sitecore's headless delivery choices, allowing teams to develop applications quicker using the latest.NET technology. All of this means that headless and hybrid-headless solutions can be deployed more quickly.
Yes, all of these are included in Sitecore Experience Manager 10.
Making Marketers Life easier
Horizon is a new editing interface introduced in Sitecore XP 9. Sitecore improved it greatly in Sitecore XP 10. Within huge multilingual and multisite instances, for example, using sitecore's next-generation UI and in-context insights has never been easier.
In two ways, Sitecore has also improved the writing and editing experience. Sitecore has made it easier to import Microsoft Word text into Sitecore's editing interface for those who still prefer it. Sitecore has strengthened integration with Sitecore Content Hub's CMP and DAM for clients who use or want to use Sitecore Content Hub to create even more efficiency across the content process.
Sitecore has broadened analytics to deliver a more human and actionable perspective of data, in keeping with Sitecore's objective of fostering human connections in a digital world. Marketers can more readily supply the right content for prospects and customers at each stage of their journey if they have a better understanding of audience segmentation.
Better Integrations and AI Automation in Sitecore Content Hub
Sitecore has also added automatic, AI-driven video annotations, time-range annotations, subtitles, and tags to Content Hub's video functionality. In Content Hub, you may now clip your videos immediately.
The Content Hub in Sitecore is now more flexible, with:
Sitecore DAM and Adobe InDesign, Photoshop, and Illustrator are more tightly integrated
A new JavaScript SDK has been released to make integrations with third-party solutions more efficient
DAM users can manage both agile content workflows and timeline-based project management processes thanks to MRM and CMP connectors
A tight integration with CHILI publisher, which automates the large-scale manufacturing of brand-compliant, ready-to-use printed goods
Sitecore Experience Commerce
Sitecore Experience Commerce (XC), like Sitecore XP and XM, supports Sitecore Containers and all of their benefits in terms of speed, agility, and deployment ease. New Scriban templates are also supported, as well as a sample interface with Sitecore DAM (Product/PCM).
We didn't forget about merchandisers and marketers, however. Sitecore added a number of new tools to help you increase your average order value and revenue:
Advanced product bundling
Promotion enhancements
Product recommendations
Product boosting
Automated birthday campaign (also in XP)
Digital Transformation for Future and Now
Technology isn't the only factor in digital transformation. It necessitates bringing together teams, optimising procedures, and obtaining more insight. However, the technology you use could make or break your success.
If there's one thing We could tell everybody considering a digital transformation today, it's this: Yes, you must change, and you must adapt quickly. However, whatever modification you make, whether it's a little tweak or a comprehensive overhaul, should serve a purpose other than responding to the current problem. It ought to serve as a solid foundation for the future. Sitecore, with its two decades of success, now provides that solid foundation to thousands of enterprises and organisations all around the world. Sitecore is ready to support you now and in the future.
Please reach us to learn more about Digital Transformation and Sitecore XP.
About Ray Business Technologies
Ray Business Technologies is a leading global Information Technology (IT) Services and Solutions, a CMMI Level 3, ISO 27001:2013 Certified Company. We are a Member of NASSCOM, HYSEA, NJTC, and AIIA. Ray Business Technologies offers comprehensive end-to-end IT Services for Business Application Development, Enterprise Solutions, Enterprise Collaboration Services, Testing and Quality Assurance Services, Cloud Computing and IT Infrastructure Management to organizations in the Banking & Finance, Insurance, Healthcare, Manufacturing, Retail, Media & Entertainment, Leisure & Travel, Telecom and Energy & Utilities verticals as well as Independent Software Vendors.