CMS vs DXP: What's the Difference?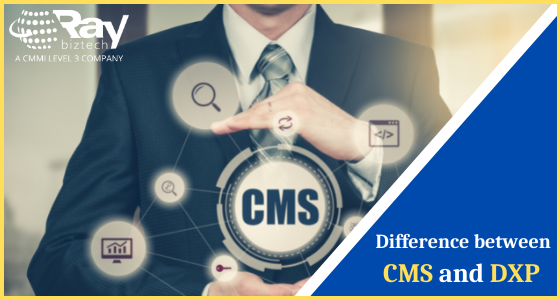 What is CMS and what is DXP?
CMS:
A Content Management System (CMS) empowers essential to publish content to a company's website and applications, including editorial, workflow, reporting, organizing, security, and user management. It is the backbone of digital identity, strategy, and engagement software.
DXP:
The Digital Experience Platform (DXP) is a new kind of Enterprise Software that aims to address the needs of businesses undertaking Digital Transformation in order to improve customer experiences.
Difference between CMS and DXP:
Here's a comprehensive overview of the features included in most modern CMSs.
Compliance and Security
You need security whether you're authenticating users and levels of access or keeping user data safe. GDPR and California's A.B. 375, for example, impose strict data security, transparency, and consumer data rights standards on all organizations operating within their borders.
Workflow Management
Your busy team requires a process that adjusts to their needs, an accessible performance dashboard, and assistance in categorizing all content with the relevant information like Authoring, editing, staging, approval, translation, publishing, promotion, reporting, and iterating.
Global Delivery
If you have or want to have multiple sites in different regions, you'll need a CMS that supports multi-site and multi-languages, as well as seamless integrations with localization and translation providers and regulatory compliance for multinational content.
Flexibility, Extensibility, and Performance
A modern CMS must be able to handle all organic traffic throughout time, seasonal spikes, expansion into new countries, and the quick development of new websites and campaigns. It should be able to integrate with other technologies, have a large number of modern APIs and connectors, and administer several sites from a single location, among other things. It should also be able to deploy on the cloud.
Omni channel
People expect to be able to interact with your company on any device they like. Not only must your CMS make it simple to distribute content to today's and tomorrow's multiple channels, but it must also make it simple to deliver material to future apps and services.
Commerce and Content Integrations
Content and commerce are now connected – from initial research to purchased-product use. Check that your CMS provides a single commerce interface, migration tools, seamless inventory management, adaptive inventory handling, automated actions (such as cart abandonment or purchase follow-up), third-party integration, user-generated content generation, and testing capabilities.
Benefits with DXP
Omni Channel Reach:
With the rise of voice-enabled gadgets and the proliferation of IoT devices, addressing your audience where they are and where they will be has never been more important.
Establish a long-term Relationship:
Smart businesses understand that a conversion isn't the end of a relationship; it's the start of a new one. A DXP is a software platform that powers and tracks engagements throughout their full lifecycle.
Integrations:
Disparate info isn't useful. Data that is linked is what we're talking about. With the market in constant motion, knowing that future integrations will not be a problem provides maybe today's most valuable commodity: peace of mind.
About Raybiztech
Raybiztech is a leading global Information Technology (IT) Services and Solutions, a CMMI Level 3, ISO 27001:2013 Certified Company. We are a Member of NASSCOM, HYSEA, NJTC, and AIIA. Raybiztech offers comprehensive end-to-end IT Services for Business Application Development, Enterprise Solutions, Enterprise Collaboration Services, Testing and Quality Assurance Services, Cloud Computing and IT Infrastructure Management to organizations in the Banking & Finance, Insurance, Healthcare, Manufacturing, Retail, Media & Entertainment, Leisure & Travel, Telecom and Energy & Utilities verticals as well as Independent Software Vendors