10 Indicators That You Need a New Sitecore Partner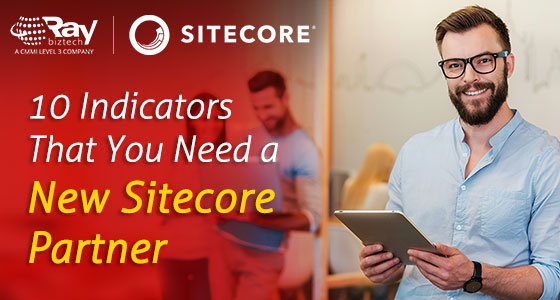 When you choose a Sitecore Certified Partner, you can trust that all their Sitecore MVPs mean they know what they are doing and will deliver what they promised, and are dedicated to putting your requirements first and helping you get the most out of the platform.
Following are 10 clear indicators that your Sitecore vendor is not putting your needs first and not following best practises when implementing your site.
1. Your website was built without the use of a Sitecore Architecture Document
You have a problem if your vendor does not develop a Sitecore Architecture Document for each project they work on for you.
A detailed Sitecore Architecture Document should always be the first step in any Sitecore installation, whether it is for a new website or an enhancement.
This crucial piece of documentation is usually overlooked when an implementation is rushed, or your provider decides to cut corners. This can have a huge impact on the project at hand, as well as the rest of your implementation. The lack of a Sitecore Architecture Document might result in misunderstandings about planned functionality, poor design fidelity, problems managing content within Sitecore, and a high number of errors discovered during the QA process.
2. The speed with which your website loads is slow
You have an issue if you are measuring page load time in seconds rather than milliseconds.
There are several reasons that might cause a website to load slowly, but they can all be fixed. If your vendor say they've done everything they can, it's possible they're not willing or able to address the underlying problems. Poor site speed is frequently caused by issues with search functionality and menu development.
A Sitecore Partner with extensive knowledge of Sitecore's performance features and optimization methodologies, front-end performance best practises, server configuration requirements, and performance monitoring and benchmarking tools will fix your performance issues.
3. Your deployments have unexpected errors and bugs
You have a problem if a deployment "didn't go according to plan" with unexplainable delays, unexpected side effects, or new evident problems.
An experienced Sitecore Partner will have developed a robust QA process, will work with your stakeholders to verify acceptability before going live, and will work to catch and prevent errors before they reach a live environment where you or your visitors would find them.
4. You won't be able to manage content by yourself
If you do not want to be reliant on your Sitecore Partner to manage and update content on your site, you've got a problem.
If your vendor does not allow you to handle your own content, you have effectively undermined the purpose of purchasing a DXP.
A Sitecore Partner with experience will ensure that you can manage your own content by:
Implementing a modular content framework
Making it simple to add and edit the content
Configuring up the site to use Experience Editor makes inline editing/adding and assigning content modules a breeze.
Setup appropriate user roles to ensure that the right people oversee the right stuff
Setting up workflows to guarantee that content is properly reviewed and approved before it goes public.
Perhaps most significantly, your Sitecore Partner should provide detailed, illustrated training documentation that is tailored to your site and your team's specific needs.
5. You won't be able to expand your site on your own
An experienced Sitecore Partner will work with you to design a component library that you can use across your site, providing you the tools you need to generate the content you want. They will always start by producing and obtaining approval for your Sitecore Architecture Document, which will detail how the material will be organised, what modules will be produced, and what content will be editable within Sitecore.
6. The Sitecore Experience Editor interface cannot be used to manage content
The Sitecore Experience Editor interface allows you to change content in real time while browsing your site and see precisely how the page will appear as you work on it. If you are unable to do so, you have a problem.
An experienced Sitecore Partner understands that this is a prerequisite for every Sitecore deployment and will offer you with the necessary planning and training to ensure a positive content editing experience.
7. You can't perform A/B and multivariate tests by yourself
You have an issue if you asked your Sitecore Partner to offer you the power to set up and perform A/B and multivariate tests on your own and you have no idea how to do so.
An experienced Sitecore Partner will work with you to determine whether this is a priority for you, and if so, will give you with the necessary training to fully utilise this functionality.
8. You won't be personalising a component on your own
You have an issue if you asked your Sitecore Partner to provide you the option to personalise specific components on your own and you do not know how to accomplish it.
An experienced Sitecore Partner will assist you in determining your personalisation requirements and how they can affect your business objectives. They will provide you the step-by-step instructions you'll need to customise these on your own.
9. You haven't been trained how to use your website effectively
A professional Sitecore Partner will insist on providing you with tailored training. Before your new site or enhancement goes live, they will include it in the SOW and make sure you have been trained and are ready to accomplish your job.
10. You are disappointing with ROI
An experienced Sitecore Partner will collaborate with you to keep costs under control and will be ready to deliver on time and on budget.
At Ray Business Technologies, we offer a comprehensive Sitecore Implementation Audit conducted by our team of Sitecore Certified Developers with 10 years of Sitecore experience. This evaluation is intended to assist your business in determining the existing scenario of your Sitecore site, identifying hidden problems, and determining what preventive measures are required to reach your current and future goals.
About Ray Business Technologies
Ray Business Technologies is a leading global Information Technology (IT) Services and Solutions, a CMMI Level 3, ISO 27001:2013 Certified Company. We are a Member of NASSCOM, HYSEA, NJTC, and AIIA. Ray Business Technologies offers comprehensive end-to-end IT Services for Business Application Development, Enterprise Solutions, Enterprise Collaboration Services, Testing and Quality Assurance Services, Cloud Computing and IT Infrastructure Management to organizations in the Banking & Finance, Insurance, Healthcare, Manufacturing, Retail, Media & Entertainment, Leisure & Travel, Telecom and Energy & Utilities verticals as well as Independent Software Vendors.