First Look Microsoft Office 2010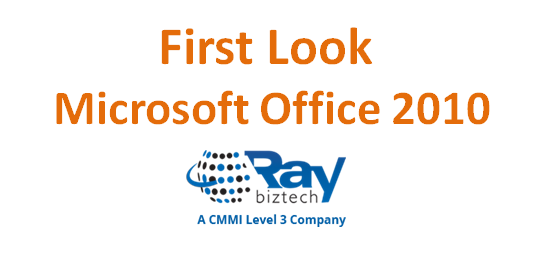 In Office 2010 Whether you work primarily in the office or on the go, you will find smart tools in this release that enable you to get your work done easier, faster, and more professionally than ever .All the freedom to multitask built into Office 2010 has an upside you might not expect: being able to work anywhere, anytime means more exibility, which trans-lates to higher effciency and effectiveness. And when your work is done quickly and well. Office 2010 is more "role-based" than previous versions.There are features tailored to employees in "roles such as research and development professionals, sales people, and human resources.
Versions of MS-office 2010 :
Microsoft Office 2010 is available in several versions, each designed with a specific group of users in mind, and each accessible via PC, browser, or phone Here's what you will find in each version of Microsoft Office 2010.
Office professional plus 2010.
Office professional 2010.
Office Standard 2010.
Office Home and Business 2010.
Office Home and Student 2010.
Office Professional Academic 2010.
Office Starter 2010.
Ref: Technet @ Microsoft.com
About Ray Business Technologies Pvt Ltd
-Ray Business Technologies Pvt Ltd, www.raybiztech.com , is a global Information Technology (IT) Services and Solutions a CMMI Level 3, ISO 27001:2013 Certified Company. Raybiztech offers comprehensive end-to end IT Services for Business Application Development & Maintenance, Enterprise Solutions, Testing & Quality Assurance, Embedded Systems, Cloud Computing and IT Infrastructure Management to organizations in the Banking & Financial Services,Insurance & Healthcare, Life Sciences, Manufacturing, Retail, Distribution & Logistics, Media & Entertainment, Leisure & Travel, Communication, Energy & Utilities, Federal Government verticals and Independent Software Vendors. Raybiztech's innovative IT Solutions in Enterprise Resource Planning (ERP), Enterprise Portals and Content Management (EPCM), Customer Relationship Management (CRM), and Enterprise Mobility including Product Development and Life-Cycle Support, have resulted insignificant strategic and cost advantage for their clients worldwide.
Raybiztech is now leading the way in powering next-generation enterprises with its Cloud,Mobility, Big Data and Social Media solutions. Our excellent team of Technology Professionals work with enterprise clients in North America, Latin America, Australia,Europe, Middle East and Asia.