How Microsoft Dynamics NAV helps improve Business?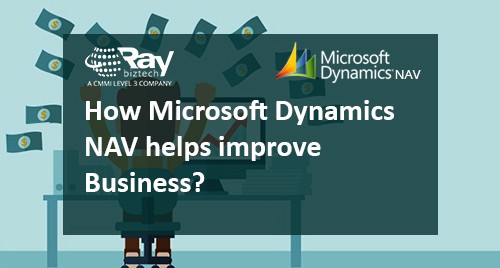 Daily, an irresistible amount of data is accumulated, analyzed, and exchanged. The quantity of data captured across the globe is rising exponentially. At present, 75% of that data is unstructured and remains idle i.e. it is not analyzed at all. Thus, it becomes necessary to find better ways of organizing and processing that information. Today a single global network connects the world; communications have become more intricate than before, hence, it is now feasible to set-up a variety of online calls, instant messaging platforms, via a wealth of support systems, on multiple devices. Dynamics NAV offers considerable enhancements to the core application, as well as deeper integration with Office 365 and Power BI.

Microsoft Dynamics NAV acts as a fundamental system for most retailers as it helps in controlling your financials, sales, supply chain, business intelligence and more. Dynamics NAV supports multi-currency and language capabilities that make this tool a complete ERP solution. Integrating Microsoft Dynamics and other services inside the enterprise augments business effectiveness and streamlines processes. Allowing communication between Microsoft Dynamics and systems such as SharePoint, OneNote, CRM, Salesforce, Google, Office 365, Outlook, E-commerce Magento & POS, allows organizations to better leverage disparate data. Moreover, it also helps in creating connectivity to social media services such as Twitter or LinkedIn so that you can have a single view of the customer.

Microsoft's aim with Dynamics NAV is to empower and connect people, using intelligent and fluid processes based on agile technology. Each new technology that enters the market represents a new learning process for the user, which can be sometimes unfavorable to productivity. However, the look and feel of systems and applications remains similar; the implementation and training processes become much easier.
Highlights of the new Microsoft Dynamics NAV
Office 365 experience
Now, stay connected with all the parts of your business. Microsoft Dynamics NAV is directly linked to Office 365, which means you can review, analyze, and share data. You can easily navigate between your Microsoft Dynamics NAV data and your office tools - for example, Microsoft Outlook, Microsoft Bookings, or Microsoft Excel. The enhanced compatibility allows you to easily create customers, vendors, quotes, and invoices, all without leaving Outlook. There is also superior Word integration, to help you lay out your documents efficiently. This flawless experience means, you can save time, increase precision, and offer your customers an improved experience.
Easy setup with wizards
Save time & avoid redundant manual tasks with the assisted setup wizard that helps you import data, setup integration with Office 365, and you can enjoy a simplified setup experience, with pre-defined setup data and limited customer interaction. In addition, with better support for cash management, it is easy to set up and adjust cash flow forecasting, gather data from all relevant sources to provide you with a complete overview.
Streamline your CRM experience
Microsoft Dynamics NAV continues to make your CRM experience more efficient and enhance the process of integrating to CRM online. Make use of a new wizard to guide you through the setup process, which allows seamless coupling of MS Dynamics CRM records with MS Dynamics NAV records. The Dynamics NAV Integration Solution on the CRM side is automatically deployed through the wizard. With this, your data is always synchronized and up to date. You can keep prices and items updated in Dynamics CRM, using the mapping and synchronization for currencies, units of measure, items, and resources - creating a Dynamics NAV pricelist within Dynamics CRM.

You can achieve more in your browser-based interface. For example, switch views to see and identify your list of records, including viewing picture thumbnails in different sizes, and use wizards to learn new concepts or simplify data entry.
Enhanced Financial performance
Work with available financial statements and gain quick insights into the financial performance of your business. The new default Account Schedules feature requires no setup, thus, financial reports are generated quickly and point in time reporting means you can view the financial state of your business for any given time. Reporting is also made easier with the new Account categories that offer structure to your chart of accounts.
Managing projects has become easier
Working with Jobs and managing projects have become easier. You now have more visibility into the information - setup jobs and enter time sheets using the new Jobs setup wizard and quickly access common tasks, new charts, and a new My Jobs list using the updated Project Manager role center.
Customers can make quick online payments
Make it easier for your customers to pay your invoices online by including hyperlinks to payment services like PayPal. You can also provide PayPal Standards payment links in Invoices, supporting multiple ways of accepting payments that includes credit cards & PayPal accounts. You can continue to make use of Optical Character Recognition (OCR), to help keep a track of the items that you get in. Microsoft Dynamics NAV allows you to extract the lines of an invoice and you can visually verify the details, training the OCR system online, using the Lexmark invoice capture service.
Easy classification of products
Organize and categorize your products as you want, advanced searches can be performed on your catalog in just a few clicks, and exhibiting only the information, you need. You can create custom item attributes and assign an item attribute value as per your business requirements, helps you manage items or create sales documents. When you add your attributes and values to an item, you can see them all in a fact box, on both the card and the list. In addition, you can also filter your items based on attribute values, making it more efficient to add items to sales and purchase documents and restraining the list of items to choose from or take action on.
Using embedded Power BI
Ongoing with the powerful integration, you can now use embedded Power BI to easily create insightful charts and reports, and then make them accessible within your Microsoft Dynamics NAV role center. Keep people informed with easy-to-share reports including key performance indicators (KPIs), inventory, sales, and order status. Empower users to create self-serve reports from reliable data source for faster, more informed decision-making.
Cortana Intelligence
Built-in feature in Dynamics NAV, Cortana Intelligence enhances historical data and improves your insights into your calculated sales, helps in managing your stock and respond to your customers. Based on this forecast, the Sales, and Inventory extension helps you to create replacement requests for vendors, saving you time.
PowerApps & Microsoft Flow
Microsoft Dynamics NAV Connector can be used to connect with your data that is in other application, such as Power BI, Microsoft Flow, Microsoft Excel, and PowerApps. You need to simply sign in to the connector and then you can use the tool of your choice.
Extensions
Transform your MS Dynamics NAV system without directly modifying the source resources, making it easier to install, manage, and upgrade customizations or extensions. Navigate through the install process with only a few clicks and easily view extension detail - name, description, publisher, version, and links. Install and uninstall extensions using the Extension Management page and quickly select the extensions you want using the easily recognizable logos.
About Raybiztech
Raybiztech is a leading Global Information Technology (IT) Services and Solutions, a CMMI Level 3, ISO 27001:2013 Certified Company. We are a Member of NASSCOM, HYSEA, NJTC, and AIIA. Raybiztech offers comprehensive end-to-end IT Services for Business Application Development, Enterprise Solutions, Enterprise Collaboration Services, Testing and Quality Assurance Services, Cloud Computing and IT Infrastructure Management to organizations in the Banking & Finance, Insurance, Healthcare, Manufacturing, Retail, Media & Entertainment, Leisure & Travel, Telecom and Energy & Utilities verticals as well as Independent Software Vendors.