Six reasons why Microsoft Dynamics AX is the best ERP Software today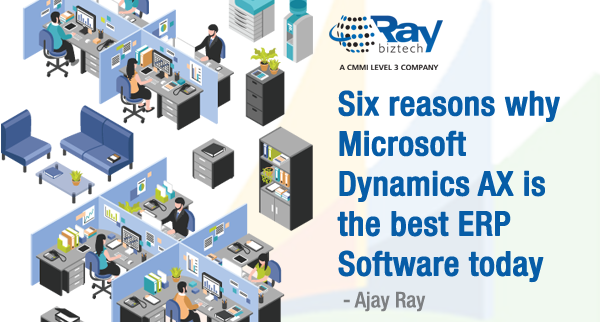 The plan to seamlessly succeed in your business is to use your resources efficiently. While planning plays a key role to determine your success, there can be two ways to do it. One – you manually plan everything and try to get bang on or either choose the smarter way and employ a smart resource planning tool.
Now, even when you choose the smart way, you certainly would get bombarded with a lot of options in the market. The tricky part here, for your business, is to choose the right tool that can help you in the long term to reap benefits. If you want to choose a tool that can cover your end-to-end business operations and provide great analytics and solution to your business problems then Microsoft Dynamics AX is the master of the game.
While other ERP tool might cost very high, this cloud based ERP tool offers varied options to all size and kinds of business and is cost efficient too.
Here are six best reasons why Microsoft Dynamics AX is the Best ERP Software to choose:
1.Proactive solutions that help you predict your business dynamics
Microsoft Dynamics AX helps your business to run on a proactive rather than a reactive approach. It provides data driven predictions of your business that will certainly help you to implement strong and profitable ideas and solutions. You can better evaluate the requirements of your organization with the tool.
2.Better Insights with smart Intelligence
With the capability of capitulating to your business needs, Microsoft Dynamics AX undoubtedly eliminates manual work by standardizing operation across your organization. Delivery of the right statistics, to the right stakeholder, at the right time, enables great outcomes. You can also recognize the wrecks in your business processes and formulate workarounds to plug them.
3.Simulate realistic business necessities
The Business process modeler feature lets you to generate, assess, and alter proposed Microsoft Dynamics AX solutions and dashboards to succumb to your actually business requirements. You can track and capture all the changes and process in a detailed way. You can also record the task and export it to Visio and .Net Framework.
4.Superior Intuitive User Experience
Dynamics AX is well thought developed and provides its users an ease to work with. You can almost do everything and anything required for your business seamlessly in the tool, irrespective of your technical knowledge.
5.Cloud Version to complement on-premise tool
A cloud software usually gives a pool of benefits like automatic updates, quick installation, and easy disaster recovery, reduction of backup servers and lots more. Being the first Cloud software, Microsoft Dynamics AX has it all.
6.Other Benefits
With the benefits that the tool has in store for you, you can save up on time, efforts, and the cost of hiring more number of people. It serves as a one stop shop for data storage and resolution of queries. You can simply play around with the options and explore many ways to succeed from a business standpoint.
In addition, this tool offers to you, an extensive list of advantages for mid-sized to large scale business.
So, what are you waiting for? Get set to experience world class service for your business with the Microsoft Dynamics AX.

Source: https://www.linkedin.com/pulse/six-reasons-why-microsoft-dynamics-ax-best-erp-software-ajay-ray