How Businesses are benefited from Microsoft Dynamics AX?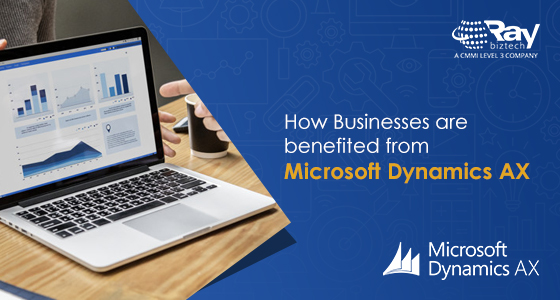 Microsoft Dynamics AX supports major enterprise functions and enables localization for high-end growth firms with a footprint across the globe. It helps the firms integrate, automate, and streamline their processes. Dynamics AX has lately been integrated with the Dynamics 365 portfolio, thereby offering a host of benefits alongside other Microsoft software. The entire Dynamics AX platform serves as a stable enterprise resource planning (ERP) solution for mid-size as well as large organizations.
An effective implementation of Dynamics AX platform empowers enterprises to transform their businesses with real-time collaboration and exchange across functional units. It eliminates dependency on legacy systems and offers a full-cycle solution that can enhance competitiveness and provide customer delight. Enterprises embracing Dynamics AX have reported more stable business processes, leading to higher revenues, increased profit margins, and forecast for long-term business agility.
Why Dynamics AX? There are certain crucial advantages attained from leveraging the ERP platform:
1. Productivity:
The dynamics AX platform allows businesses to generate insights relevant jobs and enables employees to take proactive decisions. For instance, the Dynamics AX Role Tailored Client application supports robust automation, prioritization, and scalable enough to enable faster and better performance by end-users. With ready insights and crucial resources at ready disposal, employees will deliver a quality output in the least turnaround time.
2. Scalability:
Dynamics AX offers a layered architecture so that enterprises can transition to upgraded systems as they expand or add business processes. This helps in sustaining vital business processes while upgrading to new release versions. One can accelerate deployment based on flexible architecture, powered by instant add-on capabilities offered as part of the Microsoft Dynamics AX benefits. One can minimize the overall deployment time even after incorporating one business scenario at each instance.
3. Collaboration:
Microsoft Dynamics allows you to integrate additional Microsoft tools that include external communication platforms or applications that are either on-premise or deployed on the cloud. This improves collaboration and effective communication among partners, customers, and employees of the organization, thereby improving overall workflow and automation across all the vital processes.
4. Cost Reduction:
The Dynamics AX platform streamlines financial operations and enables proper budget planning and control, in order to spot inflated costs in procurements and overheads incurred at specific touch-points across the supply chain. This helps in minimizing the company's overall expenditure, and eliminating of all hindrances towards cost-effective business outlook or financial standing.
5. Functional Capabilities:
Retail
Microsoft Dynamics offers certain exclusive features and components for use in specific areas or business functions. For example, a firm can leverage Retail and Distribution module to gain multi-channel control, boost collaboration with channel partners through real-time updates, and build powerful rapport with buyers for increased customer engagement. This is possible with exclusive Dynamics AX solutions for retail and merchandising.
Manufacturing
On the manufacturing front, organizations can leverage specific Microsoft Dynamics AX benefits to streamline production processes and minimize the time to market. The exclusive and robust Dynamics AX solutions for manufacturing offer additional operational and customer service advantage across businesses representing diverse domains and business verticals. This will boost visibility for individual preferences and fulfill specific needs from the buyer perspective.
6. Customer Satisfaction:
With more and more buyers expecting to fulfill customized requirements, organizations are keen to offer an improved level of customer satisfaction. The Dynamics AX benefits allow you to serve customers with the minimum turnaround time and high standards of quality. Orders are connected with inventory and payments are made with a secure interface that interacts with the customer for smooth billing and after-sales service or clarification of impending customer queries.
7. Analytics:
Microsoft Dynamics AX provides a robust architecture that is seamlessly interfaced with robust reporting tools offering customized insights based on real-time data, along with the provision to track errors and apply predictive analytics. These help businesses in forecasting market dynamics as well as other indicators. For instance, supply-chain metrics can be compared with real-time fluctuation in demand and the cumulative number of potential buyers within a specific time interval.
It can be realized that in the face of cut-throat competition and constantly changing market variables, the degree of convergence, connectivity, and integration offered by Dynamics AX can offer a superb turnaround for businesses along with superior brand value and greater ROI.
About Raybiztech
Raybiztech is a leading Global IT Services and Solutions a CMMI Level 3, ISO 27001:2013 Certified Company. We are a Member of NASSCOM, HYSEA, NJTC, and AIIA. Raybiztech offers comprehensive end-to-end IT Services for Business Application Development, Enterprise Solutions and Quality Assurance Services. Cloud Computing and IT Infrastructure Management to organizations in the Banking & Finance, Insurance, Healthcare, Manufacturing, Retail, Media & Entertainment, Leisure & Travel, Telecom and Energy & Utilities verticals as well as Independent Software Vendors.