Microsoft Dynamic 365 for Sales Professionals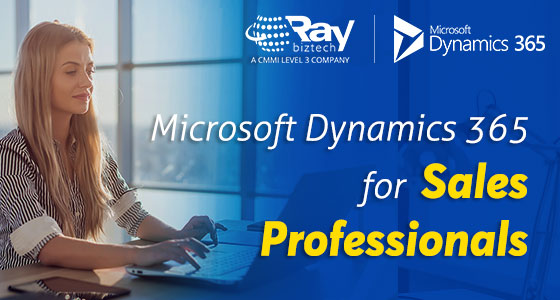 Today's sales organizations must maximize every moment spent with their clients because the business competition is stiffer than ever. This is especially true for small and medium-sized businesses (SMBs), which have fewer resources and less widespread brand awareness.
Although many major firms make use of sophisticated business software systems, there is a common misperception that SMBs cannot afford these tools. They are expensive to adopt, difficult to get started, and take too long to attain their full potential.
This isn't true. In fact, new solutions have been designed specifically for companies like yours. They're accessible and intuitive, seamlessly integrate with existing applications and workflows, and don't require outside expertise to deploy and get started, so you can realize time-to value quickly.
Level the Field of Play
SMBs and large companies have many of the same problems. They require better sales procedures, enhanced customer experiences, and expanded consumer insights. Data continues to be stored in silos by many legacy sales automation tools. Sales teams must manually combine and coordinate this data in order to access customer information, sales, open orders, sales pipelines, inventory, and supply chains in order to respond to customers.
The process is rife with mistake, and while sales teams are putting together client data, consumers are waiting or, worse, switching to rivals. SMBs may use more manual touchpoints in this process due to resource restrictions. This implies passing up critical possibilities to personalize and customize data, as well as enhance connections with consumers at a fast enough pace to remain competitive. This results in income loss in the end.
Simple and Quick to Start
There is an alternative. Cloud-based apps now may successfully communicate with one another and exchange data in ways that were not before possible, automating archaic procedures to optimize business performance.
In order to support your organisation both now and as it expands in the future, Microsoft Dynamics 365 Sales Professional (also known as Sales Professional) integrates seamlessly with the rest of the
M
icrosoft Dynamics 365
package and Microsoft Office 365.
Adopting Sales Professional is quick and simple. Because Sales Professional doesn't require specialised skill sets to implement or manage, there is almost no learning curve. Sales Professional can scale with your business as it grows because the solution is quick to set up and integrates with Dynamics 365 ERP systems.
Sales Professional is designed to assist teams in collaborating on transactions in a contemporary workplace, creating, editing, and sharing sales documents, and even working on the move using mobile apps. This gives companies real-time, cross-organization access to information spanning business and sales applications that matter to the bottom line. Sales Professional is also adaptable, allowing SMBs to customize the tool to their own sales process.
Genuine solutions for real customers
Think about receiving an email from a significant client asking you to quickly complete an order. When your sales representative checks inventory from her Outlook inbox, finds that you don't have enough stock. In her email, she writes and sends a purchase order to your supplier to make up the difference. She creates and delivers a quote to the customer using the same interface.
Utilize a familiar interface to increase sales possibilities.
Your sales team may use well-known productivity tools to quickly respond to opportunities and access data from finance, sales, or operations as needed since Sales Professional integrates easily with
Dynamics 365 CRM & ERP solutions.
Shortening your sales cycles and unlocking next-level productivity are both provided by this powerful cross-application connection, all from recognizable interfaces. You can:
Get up and operate quickly with an intuitive, guided experience for connecting Office 365 and Sales Professional.
Manage customer relationships and close deals within Office 365, eliminating the same data entry, data reconciliation, and unproductive app switching.
Stay productive even while on the road with mobile applications (for Outlook and Sales Professional) that connects sellers to the data and insights they need to maintain client relationships and close transactions.
Use integrated consumer surveys to make smarter decisions based on the most recent data and acquire strategic insights.