How Microsoft Dynamics 365 Empowers Manufacturers and Distributors?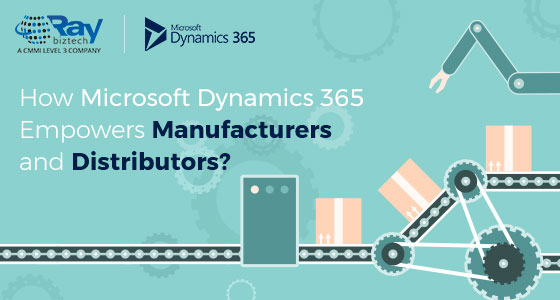 The Dynamics 365 application aims at a seamless exchange of data and processes across the internal functions such as the supply chain, finance, and sales. It is vital that manufacturing firms achieve project goals within the desired timelines and allocated budget and resources. Firms might face a drain on their resources due to inefficiency and lack of operational consistency across the functional units of the enterprise.
In this blog, we will focus on the benefits of Microsoft Dynamics 365 for the distribution and manufacturing functions:
Robust Project Management
With the help of Dynamics 365, it is possible to define KPIs and track the overall integrity of processes. It is feasible to develop intelligent processes that align with the framework of distribution function and track the requirement as well as availability of channel partners. Leveraging Microsoft Dynamics 365 helps in taking the right decisions based on actionable insights involving billable resources. This ensures profitable service delivery confirming adherence to critical KPIs and the agreed timelines.
Operational Visibility
It is vital for large multinational firms to have a view of supply chain data across logistic touch-points and inventory units spread across geographies. A fruitful liaison between production, supply chain, service, and sales can propel growth and stability. The Dynamics 365 application helps distributors and supply chain leaders to evaluate production metrics across the manufacturing lines, and make informed decisions. As many as 94% of supply chain experts admit automation in manufacturing is crucial, while 44% are actually prepared to jump the barrier, says a study.
Employee Motivation
The Dynamics 365 application for manufacturers helps evaluate the performance of the workforce and address the pertinent skills gap with precision. The tool helps the enterprise perform crucial tasks pertaining to employee selection, training, development, and retention. The Microsoft Dynamics 365 equips manufacturers with presentable dashboards and means to retrieve actionable insights.
A 360-view of the manufacturing operations and overall resource requirements allows implementation of the best practices in the existing operational environment.Workers are equipped with the requisite data and tools that streamline day-to-day manufacturing and distribution operations. Almost 53% of Americans say they need to be motivated more at work to register a better level of productivity.
Scaling Productivity
Dynamics 365 helps distribution and manufacturing firms minimize costly engagements with powerful tracking of data along with a consolidated view of virtual and mobile operations. This helps in achieving an exceptional level of productivity by prioritizing workloads and creating real-time procurement and supply schedules, and collaboration of Office 365 tools with the actual Microsoft Dynamics 365 application. Marketers can also automate common strategies for improving their targets such as organizing event-driven or location-based sales and empowering the most capable production executives powered with hand-held devices that are equipped with dashboards and analytics driven by Dynamics 365.
Streamlined Sales Cycle
The Dynamics 365 application helps marketers and sales managers improve the visibility of their territory and target segments. The application helps field sales personnel as procurement levels are met with timely scheduling. Field service agents can streamline their tasks by virtue of real-time interaction with the manufacturing unit, to achieve desired delivery and order fulfilment. This will potentially eliminate the need to speak to a human technician, thereby freeing up at least a few of the vital resources. Advanced features powered with intelligent forecasting also help the field sales agents with real-time inventory and stock updates.
Personalization
As market dynamics evolve, greater user participation has become all the more important. This is used to gauge the pulse of buyers through well-designed surveys and feedback forms, and product reviews on social media. The Microsoft Dynamics 365 application helps manufacturers and distributors analyze data and deliver value through each and every customer interaction touch-point as well as personalize each form of communication.
About Raybiztech
Raybiztech is a leading global Information Technology (IT) Services and Solutions, a CMMI Level 3, ISO 27001:2013 Certified Company. We are a Member of NASSCOM, HYSEA, NJTC, and AIIA. Raybiztech offers comprehensive end-to-end IT Services for Business Application Development, Enterprise Solutions, Enterprise Collaboration Services, Testing and Quality Assurance Services, Cloud Computing and IT Infrastructure Management to organizations in the Banking & Finance, Insurance, Healthcare, Manufacturing, Retail, Media & Entertainment, Leisure & Travel, Telecom and Energy & Utilities verticals as well as Independent Software Vendors.