What are the Features & Primary Advantages with Kentico?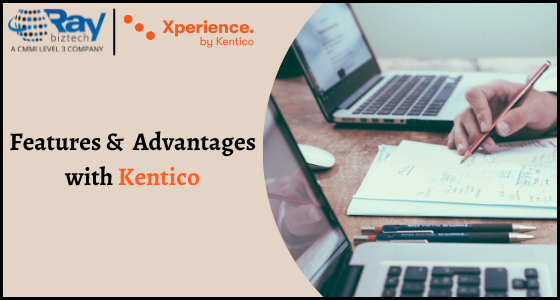 Kentico is a popular Content Management System. It started operations in 2004 with Kentico software in the Czech Republic. Now, it has 1000 digital solution partners across 120 countries and powered more than 30,000 websites.
Top Kentico Features
Kentico: All-in-one Platform (Content Management System + Ecommerce + Centralized Online Marketing)
Digital Marketing: Management of digital marketing campaigns, sending emails, segmentation, marketing automation, content personalization, qualification of prospects, A / B testing, testing, and monitoring of the profile on multiple sites.
WCM Content Management System: Multilanguage content, Drag-and-drop Portal Engine, Multisite, Responsive, Adaptable to any mobile device, customizable pages, and titles. Integration with social networks.
E-commerce (Electronic commerce): Discounts, product variants, customization of the checkout process, integration of means of payment, handling of orders and orders, personalized notifications.
Platform: (HTML5, React, Angular). NET, Extensibility and Open API, Authentication, Full-text Search, Synchronization and Staging, Data Integration Bus, Continuous Integration across the entire platform .Net security.
Kentico Advantages
Business: Kentico has a fair price and no hidden costs, which gives the client peace of mind regarding the cost of licensing and maintaining the platform. Kentico is designed for dynamic and innovative companies that want to face digital transformation and design business models focused on the personalization and automation of the user experience. It is a comprehensive all-in-one content management system that has more than 70 modules tested and ready to be used centrally and easily integrated.
Techniques: Telephone and email support by a team of professional engineers and marketers around the world available 24 hours a day, 7 days a week. Kentico has a network of more than 1000 agencies and strategic allies around the world. Quick response times and additional support on demand. Kentico has many functionalities within the box that all are updated once so as not to depend on third parties to create customizations compatible with the latest version of Kentico.
Editing: Kentico platform provides a compelling content editing interface. It allows the user to modify content, view it before publishing, shape the site structure and manage extension modules.
Visual Editor: The built-in visual editor is fully integrated into the system. It enables site editors to run with content as if they were using Word. Here are its capabilities:
Basic & advanced formatting
Insert uploaded images & flash movies
Creating links to other pages, external files & sites
Developers can modify the editor toolbar to restrict editing capabilities.
Features that can be taken out of the box when you're ready to go.
Tested multiple times.
24/7 support on any license.
Kentico is easy to use for marketers and eCommerce owners willing to win in digital transformation.
Ease of use for non-technical users
Fast website development without complicated programming
Built on the powerful Microsoft ASP.NET/SQL Server platform
Complete solution - Not necessary to purchase additional software.
Complete C # source code available in source code licenses
Kentico CMS is an open and flexible platform for building internet and intranet sites and portals.
About Raybiztech
As the Kentico Xperience 13 Gold Partner, Ray Business Technologies carries a competitive track record in all facets of Kentico development, upgrade, and maintenance. Our team of Xperience professionals can understand the modern requirements of creating and executing campaigns. Raybiztech offers full-cycle projects around Xperience by Kentico with a focus on customer satisfaction and the fulfillment of precise requirements. We deliver all the essential ingredients in order to improve brand consistency and to drive business goals.