Online Marketing Features with Kentico Xperience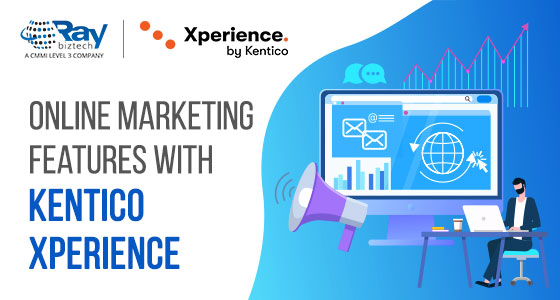 Technologies are developing rapidly & everything's getting digitalized. day-by-day the target audience is shifting online as the internet is undoubtedly available to everyone. In 2021 if you want to reach your audience, then you are required to make an online track of your brand & to do so you should have a digital marketing platform.
Kentico Xperience is a Digital Xperience Platform (DXP) which is an integrated piece of technology that supports the Composition, Management, Delivery & Optimization of Digital Experiences. Kentico Xperience offers multiple marketing features like campaigns, marketing automation, lead scoring, contact management, etc. In this blog, we are going to explain all the online features of Kentico.
Top Most Digital Marketing Features of Kentico Xperience
Email Marketing
Email Marketing is an online strategy to convey marketing or promotional emails to potential clients. Kentico Xperience offers a comprehensive package for this email marketing. You can create design content of email custom templates on your own and can send it to your targeted audience.
Personalization
Kentico Xperience allows you to gather data of your customers & help you deliver personalized marketing experiences for them. You can create a personalized experience based on link clicks, device, user age, location, previous experience, purchased products, user age, etc.
A/B Testing
A/B Testing is a technique of comparing two versions of campaigns or landing pages to see which one performs better. Kentico itself has an easy-to-use A/B testing tool to validate the best option for you & increase your ROI. It also allows you to track your tests in real-time and provide other insights.
Lead Scoring
Leverage, Kentico Xperience CMS to rank your leads & to determine the worthiness of a specific lead. Based on the criteria you have set, details can be assigned to your leads. You can also integrate Kentico Xperience with Microsoft Dynamics 365 or Salesforce to export or import leads.
Contact Management
Contact Management is a method of storing, adding, and managing contact data & streamlining all your marketing activities. Kentico Xperience offers a completely integrated contact management system moreover, it also allows you to track links clicked, pages visited, engagement of Email Campaigns, etc.
Online Forms & Surveys
You don't need any specialized knowledge to surveys or build online forms on your website, just with few clicks, you can create customized surveys or forms on Kentico Xperience. Just drag & drop to create a form and the submitted information can also be exported to Excel.
Multilingual Content
If you want to extend your business & reach customers globally, then you should have a multilingual website. Kentico Xperience enables you to create a website in multiple languages like Arabic, Chinese, Russia, etc. There are many advantages of having a multilingual website like it easily reaches non-native English speakers, cost-effective, expands into new markets & increases the traffic of your website.
Key Benefits of Kentico Xperience Platform
Ease of Content Management
You don't need to have any sort of technical knowledge or coding skills to manage content on your own Kentico website. Marketers can easily manage, add, edit & update content on their Kentico website.
Page builder helps you design web pages by adopting a simple drag & drop interface. Pages templates & structured contents save time by allowing users to design new pages, sections by reusing used content. Editing content, add links or media files using an intuitive rich-text editor.
Automation
Kentico Xperience is one of the rare DXP platforms that allows you to automate your tasks. Also, automate your marketing activities & nurture sales leads. Using this Kentico Xperience you can automate, manage & optimize all your email marketing campaigns.
Privacy & GDPR
Kentico believes in responsible marketing & keeping user's data private. It complies with PII, GDPR & CCPA to protect its customer's data. Kentico Data Protection App allows you to create, stored, edit and archive consent. Using Kentico Platform you can also delete associated data to comply with its privacy regulations.
E-Commerce Solution
As the internet is becoming easily available across globally, more & more people are preferring for online options to purchase services or products. Kentico Xperience allows you to build an online store for your business.
Kentico Xperience's e-commerce solution allows various features like Product Categorization, e-Commerce APIs, Product Bundling, Faceted Search option, checkout process, Customized shopping cart & Google Analytics Tracking.
Bottomline
While Kentico Xperience offers exceptional flexibility, support, and scalability to create online websites for your business, it is one of the best platforms to cater to all your marketing needs. This is one of the best online marketing solutions.
Kentico Marketing platform thus put you in a win-win circumstance, both on the business & customer side. Stay tuned with Raybiztech for more blogs on Kentico Xperience.
About Raybiztech
As the Kentico Xperience 13 Gold Partner, Ray Business Technologies carries a competitive track record in all facets of Kentico development, upgrade, and maintenance. Our team of Xperience professionals can understand the modern requirements of creating and executing campaigns. Raybiztech offers full-cycle projects around Xperience by Kentico with a focus on customer satisfaction and the fulfillment of precise requirements. We deliver all the essential ingredients in order to improve brand consistency and to drive business goals.