Everything you need to know about GDPR compliance in Kentico 11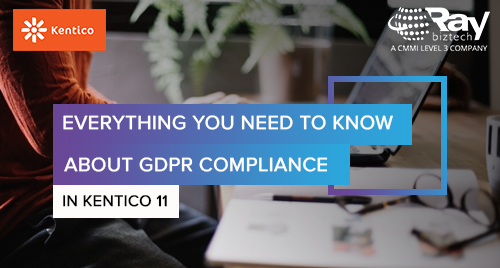 In the era of Big Data, AI and Machine Learning, data symbolizes a new economic asset that offers companies a significant competitive advantage, at the same time, it can damage the reputation and bottom-line of the companies that fail to ensure security and privacy of critical corporate and customer data.

In spite of the rigorous consequences of compromised data security, until lately, the penalties for breach of data protection regulations were limited and enforcement actions irregular. However, with the introduction of a potentially radical European General Data Protection Regulation (GDPR) is expected to transform the way companies handle customer data by exposing them to the risk of heavy fines and severe penalties in the event of non-compliance and data breach.

The GDPR is different from all existing regulations because of its extensiveness of client data protection. From conditions on cross-border data transfer to the need to implement, review, and update adequate technical and organizational actions to protect customer data, the GDPR brings in several new legislative requirements that will considerably impact the way businesses collect, manage, protect, and share both structured and unstructured data.
What is GDPR?
Enforceable from 25 May 2018, GDPR is a latest EU regulation that is specifically designed to update the existing Data Protection Directive, through which there will be protection and free movement of personal data of all individuals across EU. The regulation is applicable to organizations that collect or process data from EU residents or cooperate with EU-based organizations that process the data on their behalf. GDPR also focuses on combined approaches to data privacy and security. At the crux of GDPR - the objective is to simplify, unify, and update the protection of personal data of individuals. The regulation is not limited to EU companies and people of EU. All companies that deal with EU citizen data will have to comply with GDPR, at least for EU citizens.
Benefits of GDPR
It will allow companies to build customer trust.
Will enhance brand image and reputation.
Advanced data governance.
Protects data from unauthorized access.
Enhanced information security.
Better competitive advantage.
GDPR not only involves companies to implement a sturdy and perfect infrastructure to collect, store, and process data, but also directs them to constantly review and update the infrastructure. From an organization perspective, the GDPR defines several roles that are responsible for ensuring compliance: data controller, data processor and the data protection officer (DPO). According to the PwC survey, 68% of U.S. based companies expect to spend $1 million to $10 million to meet GDPR requirements. Another 9% expect to spend more than $10 million. Some 60% companies are still not sure about GDPR compliance.

The GDPR places equal responsibility on data controllers (the company that owns the data) and data processors (outside companies that help manage the data). A third-party processor not in compliance means your company is not in compliance. Thus, the GDPR also has strict regulations for reporting data violation that everyone in the chain must be able to comply. Companies must also inform customers of their rights under GDPR.
What will happen if the company does not comply with GDPR?
Data controllers and processors that fail to comply with the GDPR regulations need to face severe consequences like reputational risk, huge fines i.e. 20 million EUR or 4 percent of the company's global turnover whichever is higher. To avoid these huge fines, companies need to have complete and mature data governance in place. From modifying the existing contracts to getting a buy in from the key people in organizations, companies will require to review their entire data process management approach in order to become compliant and alleviate reputational and financial risks.
Kentico 11 & GDPR Compliance
If your company is using a Kentico CMS solution for managing the entire content or customer data then Kentico 11 will help you in better Data protection and GDPR Compliance. In which scenarios Kentico can help?
Your company is based in the EU and uses Kentico CMS or Kentico EMS.
You offer products or services to clients based in the EU.
A company that offers you with services such as system administration, hosting, or help desk is located in the EU.
Kentico's Data Protection app is extremely customizable, as it helps you to comply with rigid data protection regulations, such as GDPR. Kentico offers several features and procedures that help you comply with the GDPR. It can easily manage right to access, data flow, data portability, and right to be forgotten, and even track the consents on your website, helping you avoid unpleasant penalties.

Data Flow - Do not worry about the complexity of mapping the data flow in Kentico 11. At any time if you require searching data to comply with GDPR or any other data protection regulation requests, Kentico's extensive documentation makes it easy for you to locate data and navigate inside it.

Consents - With the help of Kentico 11's integrated consent management, you can easily create, store, update, or archive consents in the Data Protection app. You can also keep track of the given consents and display them to your site's visitors, whenever necessary, through the provided web parts and form controls.

Right to Access - Kentico 11's Data Protection app allows you to deal with data protection rights such as right to access, as necessary by GDPR and other international data regulations. You can access all the data from one point, and you no longer need to worry about the difficult and long process of collecting data from different sources, and missing pricey deadlines.

Right to Be Forgotten - You can respond to demands for personal data deletion from your customers/visitors with easiness. With the help of Kentico 11's Data Protection app, you can selectively delete relevant data and comply within the strict deadlines compulsory by GDPR and other international data protection regulations.

Data Portability - By using the highly customizable Data Protection app, you can offer, upon request, data in machine-readable format. This enables personal data to be exported from one system and imported to another for effortless movement of data.

Organizations need to understand what kind of data they collect, hold, and process. They also need to comply with all kinds of data protection regulations. Data protection feature has to be designed into systems and processes and necessary measures need to be followed for accurate data protection.
About Kentico
Kentico is one of the fastest growing CMS today, and we at Raybiztech are Kentico GOLD Partner, having the highest number of Kentico Certified Developers among other Kentico Partners. We have a team of Kentico Certified Developers who have significant experience in developing complex and scalable solutions on Kentico. Raybiztech offers comprehensive Kentico Solutions to leading enterprises globally. We participate in constructing a solution that allows our clients to self-manage cost for the long-term while empowering their businesses to make progress in their projects. Kentico has various CMS versions; Kentico Base, Kentico Ultimate and Kentico Enterprise; and all of these versions have significant features included. You need a Licensing expert like Raybiztech, who can help you to save your precious dollars.

We offer below Kentico Development services:
Kentico CMS Consulting
Site Architecture Planning
Kentico Templates Development
Custom Modules Development
Kentico Deployment
Content Analysis & Migration
Kentico Server Hosting
Social Integrations
Mobile Applications
Kentico e-commerce
Kentico Document Management
Kentico Performance optimization
Kentico Cloud Consulting
Kentico Training
Kentico CRM Integration
Kentico ERP Integration
Kentico SAP Integration
Kentico PIMCORE Integration
Kentico Developers Hiring
Kentico Architecture Consulting
Kentico Technical Consulting
Kentico Functional Consulting
Kentico Migration
Kentico Upgrade
Kentico Site Audit
Kentico Reporting
Kentico Analytics
Kentico Administration
Kentico Regression Testing
Kentico Load Testing
Kentico Continuous Integration
Kentico Support & maintenance
Kentico Dashboards
Kentico Intranet
Kentico Security Audit
Kentico GDPR
Kentico Health Audit
Kentico Web Parts
Kentico Infrastructure Optimization
Online Marketing Integration
Kentico Workflows Development
Kentico web-to-print
Kentico digital signage
Kentico Content migration
Kentico Code review
Kentico Connectors
Kentico MailChimp Integration
Kentico Hubspot Integration
Kentico QuickBooks Integration
Kentico Shopping Cart
Kentico Payment Gateway integration
About Raybiztech
Raybiztech is a leading global Information Technology (IT) Services and Solutions, a CMMI Level 3, ISO 27001:2013 Certified Company. We are a Member of NASSCOM, HYSEA, NJTC, and AIIA. Raybiztech offers comprehensive end-to-end IT Services for Business Application Development, Enterprise Solutions, Enterprise Collaboration Services, Testing and Quality Assurance Services, Cloud Computing and IT Infrastructure Management to organizations in the Banking & Finance, Insurance, Healthcare, Manufacturing, Retail, Media & Entertainment, Leisure & Travel, Telecom and Energy & Utilities verticals as well as Independent Software Vendors.