Kentico 12 MVC drives modern Customer Experience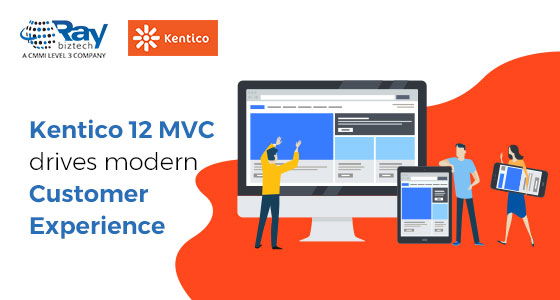 The newest version of Kentico allows marketers to leverage powerful interfaces with smart forms and intuitive templates that will drive the marketing CMS of the future.
MVC: An Introduction
Model View Controller - or MVC - tends to segregate the view from the data. It relies on code that translates the site data into the view, based on visual aspects of the site. The model was first rolled out by Microsoft in 2007.
With the advent of MVC, Kentico has differentiated design and functionality. It now means the developer could work on the View, while the designer can add something interesting to the Controller – both of them at the same time.
Kentico 12 offers an option to use traditional WebForms. However, MVC model is the better option for future Kentico development needs - keeping in view emerging business scenarios, and Microsoft would gradually expected to remove support for WebForms.
Integrated Content and Campaigns
Setting up tailored campaigns has been a challenge, with 66% of marketers finding it difficult to mobilize internal resources. This usually results in lower conversion rates in a typical campaign, which would have been 83% higher otherwise, the same study says. Thus, communication plays a key role in attracting target buyers.
Various distinct Kentico modules such as Content Management, eCommerce, and Web Analytics are instrumental in driving integrated campaigns with powerful data collection capabilities, to deliver a personalized experience cost-effectively.
Scalable Applications
As customers expect fast-loading pages, MVC ensures the architectural layout is cleaner – which in turn makes the applications load up faster with an 'asynchronous technique'. The latest version of MVC Page Builder (in Kentico 12) allows the editors to customize page layout and add widgets to create rapidly scalable applications without dependence on developers.
Marketers can now customize each widget to deliver personalized content that developers can define using 'condition type' that is unique for a given persona - based on individual customer data collected and stored by the CMS. At the same time, modularization in Kentico 12 allows the packaging and reuse of specific components created for one application in other successive projects.
Streamline with Service Pack 12
Kentico 12 offers a range of options for e-commerce businesses with a range of dashing tools. At the same time, it can connect with the clients' legacy systems, such as CRM, sales or any other specific customer management systems.
The MVC framework – and lately the Service Pack 12 enhancements - offers removable, adjustable, and drag-and-drop widgets. This goes a long way in synchronizing media feeds and product updates with real-time publishing.
It also allows companies to manage product categories and order information from the same content management system (CMS) – eliminating the dependency on distinct or separate page creations.
Consistency All the Way
For modern marketing campaigns, it is imperative to store data on user personas and contacts in a centralized database, from where it could be fetched at any point in time. It is thus ideal to improve data consistency across web parts and the complete websites.
The Kentico 12 includes e-commerce tools that allow marketers to collect data from real-time visitors. These include e-mail marketing tools, web analytics, and advanced Personas, and offer a great deal of consistency.
Flexible and Secure
Technology ought to be simple and straightforward, rather than being a burden. This is exactly what MVC bestows upon Kentico developers and marketers - to deliver fast-paced 'punches' and personalized messages to the customer, without any knowledge of HTML or CSS. The latest version of Kentico upgrade will now allow the personalization not just of pages, but individual widgets.
The Bottomline
Leveraging Kentico 12 with all its superb features powered by MVC will allow firms to lead by example in terms of Customer Experience (CX). This also comes with added perks such as faster time to market and improved organizational agility.
About Raybiztech
As the Gold Partner for Kentico, Ray Business Technologies carries a competitive track record in all facets of Kentico development, upgrade, and maintenance. Our team of professionals can understand the modern requirements of creating and executing campaigns.
Raybiztech offers full-cycle projects around Kentico with a focus on customer satisfaction and the fulfillment of precise requirements. We deliver all the essential ingredients in order to improve brand consistency and to drive business goals.