How Kentico delivers Marketing Capabilities?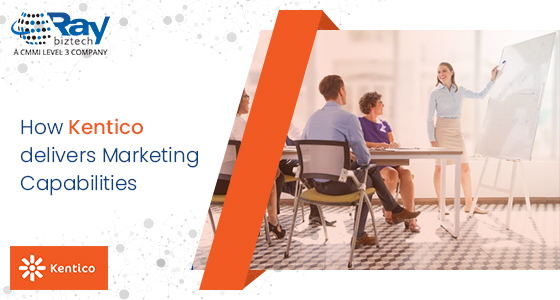 Apart from becoming one of the best CMS platforms, Kentico offers an integrated e-commerce solution for global prospects. The flexible installation and licensing options, in addition to a customized campaign runs, document management, multilingual websites, social networking, and multi-site management, will offer businesses the top-form agility.
With the support of any kind of third-party back-end and equipped with powerful capabilities that can drive marketing campaigns. Associated with an open API, the Kentico platform allows the creation of custom web parts, modules, and other widgets for targeted content delivery.
Kentico Licensing
Kentico is said to be the select Content Management System that allows businesses to get started with a basic level of licensing, and then add features to the system as the enterprise seeks to fulfill more number of tailored requirements.
The licensing options are aimed at offering customers the desired level of scalability when deploying and leveraging the desired Kentico platform or upgrade. The specific range of progressive licensing options allows businesses the desired flexibility to go for a facelift of the CMS in tandem with the current and upcoming requirements, utilizing the additional features as and when needed.
The business stakeholder has a choice to either start with the CMS Base or Ultimate license. Kentico extends a limited-period technical maintenance contract which includes all major upgrades or patches applied through the maintenance period (For most of the Kentico 7.0 versions and higher). However, the user is not entitled to any free upgrade once the maintenance tenure expires.
All-In-One Capabilities
Kentico has reportedly been used by 25,000 websites in 90 nations, thereby underlining itself as the 'CMS of Choice' across diverse industries and business verticals.Few of the salient features that Kentico Online Digital Marketing Solution offers:
All-in-one platform that can grow with the business needs
Create unique experiences to offer improved customer satisfaction
All-in-one e-commerce platform with integrated online marketing tools
Eliminates the use of multiple and disparate third-party systems
Widgets to drive personalized content across campaigns and web parts
Seamless payment gateway connectivity and compliance with GDPR security norms

Kentico EMS and the Kentico Cloud have revolutionized the landscape of content management system and user personalization within a short span of the last few years.
About Raybiztech
Raybiztech is a leading Global Information Technology (IT) Services and Solutions, a CMMI Level 3, ISO 27001:2013 Certified Company. We are Member of NASSCOM, HYSEA, NJTC, and AIIA. Raybiztech offers comprehensive end-to-end IT Services for Business Application Development, Enterprise Solutions, Enterprise Collaboration Services, Testing and Quality Assurance Services.