Kentico 12 Service Pack adds Performance and Flexibility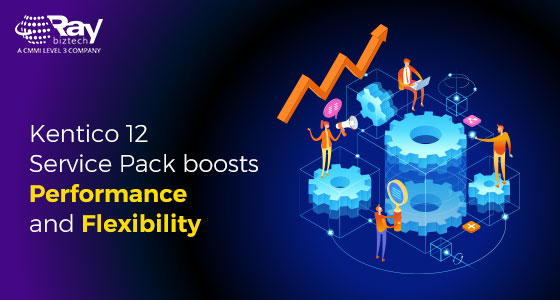 To boost its performance, Kentico had been gathering inputs from partners and clients leading to the Service Pack 12 roll-out. The Service Pack 12 is not like the ordinary hotfixes; rather it offers seamless options for enhancing the overall MVC developer experience.
Kentico has solicited consistent feedback from business partners to build a knowledge base on Kentico MVC 12 performance. Based on the feedback, it incorporated certain best practices and addressed key areas as part of the Service Pack 12. The measures cover crucial parameters such as MVC architecture, custom routing and caching. It is now easier than ever to have a landing page that runs on a customized ready-to-go template – in just a couple of clicks.
It aims to derive the best out of the Kentico platform that will delight the developers more than expected. For instance, marketers can now create new landing pages faster by saving the chosen MVC page configuration that also encompasses the widgets and stuffed content.
The Kentico 12 Service Pack now allows developers to be more creative with widgets by saving time, as developers can create their customized widgets that shall be leveraged by content editors. Further, the editors will be able to configure the widgets themselves. Service Pack 12 enables the configuration of widgets in the Page Builder efficiently while building a robust CMS application. Also, the number of choices for MVC sample widgets will increase with the inclusion of diverse concepts such as listing, commercial widgets, listing, gallery, and the like.
Page Builder Templates
This Service Pack 12 upgrade allows customization of MVC Page templates without having to work with developers, thereby saving on time and resources. One can save the desired templates based on brand guidelines, common landing page requirements, and the best practices – for later and frequent use. The layout, background, or color of the templates can be changed as desired. An awesome landing page can be saved as a custom template along with its properties, widgets, and sections.
A/B Page Testing
The Page Builder now has an intuitive interface to run A/B tests – that are used for performance and boosting conversion rates – as the clients would want to have those optimization capabilities up and running in the newly designed website built and delivered around the Kentico 12 MVC platform. Based on the evaluation of website content with dynamic A/B testing, marketers determine the need, if any, to tweak the content for improving the conversion rates.
Tiny URLs
The original Kentico 12 release had offered only one Page Alias option for the developers, so it was a bit tough working with long and cumbersome URLs. With the Service Pack 12 release, it is possible to create short and attractive URLs for driving campaigns on the existing pages. The feature is set to improve the overall efficiency of the campaign and allow the creation of new URLs on current pages that are even accessible from a new site. One does not need to explicitly move remote pages into the current site to pull over a big crowd.
Selectors
The Kentico Service 12 Pack also includes the Path Selector for instant selection of a URL to link to other pages directly from a specific page on the page tree. Also, one can select a media file directly - such as a picture or video file - from the media library, rather than explicitly having to upload files. Also, the Service Pack has introduced a handy File Uploader component for the benefit of technically challenged when working with forms. It can be used to insert some content seamlessly while submitting a form.
The Service Pack 12 thus enables marketers to quickly launch new landing pages, without having to 'break' through the architecture. The pack also offers a sense of independence in terms of decision-making, and improves the way coders work with Kentico 12 MVC.
About Raybiztech
Raybiztech is a leading global Information Technology (IT) Services and Solutions, a CMMI Level 3, ISO 27001:2013 and ISO 9001:2008 Certified Company. We are a Member of NASSCOM, HYSEA, NJTC, and AIIA. Raybiztech offers comprehensive end-to-end IT Services for Business Application Development, Enterprise Solutions, Enterprise Collaboration Services, Testing and Quality Assurance Services, Cloud Computing and IT Infrastructure Management to organizations in the Banking & Finance, Insurance, Healthcare, Manufacturing, Retail, Media & Entertainment, Leisure & Travel, Telecom and Energy & Utilities verticals as well as Independent Software Vendors.