Kentico 12 is Here! Check out the New Features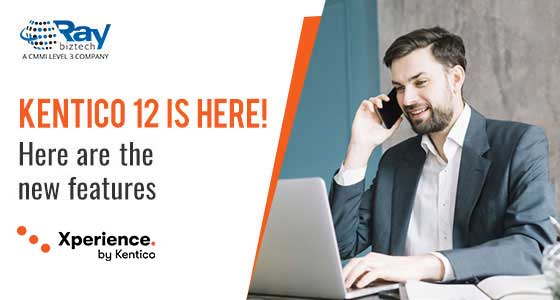 The Kentico 12 version is released on November 2018. The roll-out will have the following updates:
MVC: The Buzzword
Kentico 12 offers First Class Support for ASP .NET MVC, with a greater capability of integration among components and their behavior in the dynamic run-time environment. With the release of Kentico 12, it is vital to look whether any new functionality or feature will work with an MVC model. The MVC-driven environment takes precedence over the traditional Portal Engine becomes secondary, which is no longer considered as the primary development model with the advent of Kentico 12. It is essential to first consider whether a newly-introduced feature works under the MVC framework, before placing emphasis on the Portal Engine model.
Smart Forms
Smart Forms enables businesses to strike a balance between the size of the form and the actual bits of information solicited from the user. It helps marketers nurture content that is best for the user, with more of what he/she is interested in. Any edits done through the forms are reflected directly into the site, thanks to a swift update process used by Smart Forms. These are powered by an exclusive MVC Form Builder from Kentico 12, which allows flexibility to developers and extends freedom to marketers for creating online forms quickly, reducing turnaround time on both the fronts.
Improved Widgets
Kentico 12 makes a provision for smart placing and incorporation of widgets, utilizing a feasible provision for specific layouts or options. Variations can be introduced to individual widgets and those can be accommodated into complex grids or arrays, thereby offering marketers a greater autonomy in tweaking their campaigns. Kentico 12 will focus on a satisfying and value-added experience by allowing marketers to specify widgets' properties and populating them with relevant content.
Advanced Content Authoring
With advanced paradigms and user-centric models, the upcoming version of Kentico will be ready for managing assets and properties, in addition to the integration of Artificial Intelligence as well as leverage of fast-paced Page Builder components and much more. The new Page Builder will be a leap forward in terms of an enhanced editing interface, and even users not accustomed to the new MVC will see a clear advantage. Kentico 12 is powered with Address templates which will enable users to pull content from specific widgets, thereby leveraging MVC support for widget-level translation and coordination among advanced content workflows associated with a diverse set of end-users.
More Personalization
A modular, visual and flexible view offered by Kentico 12 will be appealing to the user, making things all the more real and simple. Content editors will be able to edit inline in real-time rather than in a dialog container just to fill out a form. An editor will be able to respond instantly to manage and fix underlying bugs in controls, as well as set individual styles to tweak the appearance of specific input controls.
Kentico 12 will also offer certain other Collaborative Benefits:
Microsoft Azure 'Faceted Search' which refined and powered by the cloud
New insights into customers with analysis of contact personas, touch points, and newsletters
Run new campaigns without losing on previous customer data through seamless campaign restarts
Powerful audience connection using newly-introduced plug-ins for Salesforce CRM integration
Direct access to the content powered by the EMS platform for a highly personalized experience
About Raybiztech
Raybiztech is a leading Global IT Services and Solutions Company, ISO 27001:2013 Certified Company. We are a Member of NASSCOM, HYSEA, NJTC, and AIIA. Raybiztech offers comprehensive end-to-end IT Services for Business Application Development, Enterprise Solutions and Quality Assurance Services. Cloud Computing and IT Infrastructure Management to organizations in the Banking & Finance, Insurance, Healthcare, Manufacturing, Retail, Media & Entertainment, Leisure & Travel, Telecom and Energy & Utilities verticals as well as Independent Software Vendors.