How to Choose the Right CMS for Your Website?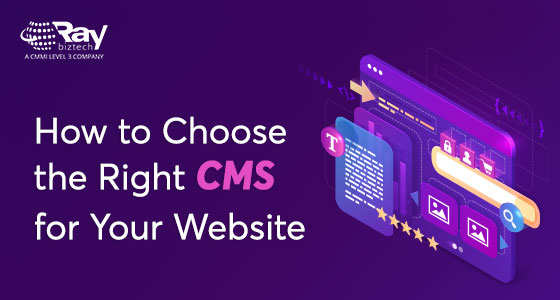 Globally, every industry is striving to create a competing service advantage & meet changing consumer preferences. One of the most significant parts of the journey of creating your online presence & brand is content. The right content marketing platform is the key to gain a more extensive consumer base & engage them. This is possible through the aid of a reliable CMS (Content Management System). Nevertheless, it can be a difficult task to pick the most suitable CMS platform for small businesses.
What to Choose - Open Source V/s Proprietary CMS Platform?
We have countless choices from basic to advanced enterprise Content Management solutions. Depending on the necessities of small and large enterprises, the Content Management System is broadly classified into two variants- Open Source & Proprietary.
Open Source CMS (Content Management System)
As the name implies, the code of the Open Source CMS is freely available & effortlessly accessible by the public, allowing users to improve, update, and adapt to individual business conditions. This Content Management comes without license charges, making it a good opportunity for small budget-related companies. One of the most usually used open-source CMS platforms is WordPress that is simple to use & has limitless customization functionality. Every WordPress Development agency should stay updated with the most advanced trends to build a website with easy customization and integration tailored as per customer's requirements.
Proprietary CMS Platform
Another type of Content Management System platform is proprietary CMS, which can be offered with a paid license. These CMSs are normally developed by some companies & later categorized as commercial projects. If you want to create a high-performance website, proprietary CMS(Content Management System) like Kentico is on the top of the list. Avail of the most reliable Kentico development services to speed up your site development also expand business growth with advanced functionalities like caching features, efficient coding, etc.
Top CMS Platforms for 2021
There are multiple options available in today's market, which enable you to plan, create, and manage your content & blogs. Every CMS platform has its pros & cons that make them differ from one another. As per the individual business requirements, some CMS characteristics can be very efficient, and some may be of no value. Figure out which principles of the CMS platform would help you and meet your needs. In this blog, you will get everything you required to know about the top CMS platforms, desirable features & how to choose the right one. Let's find them out!
Here is the list of the 5 most popular CMS platforms in 2021 with its best features that can help to boost up your business website to grow.
Kentico CMS
Kentico was built with the advanced features of online marketing & eCommerce. Kentico is popularly known as all-in-one CMS that has all the essentials you need to create a website, without the necessity of relying on multiple systems. Though this is a licensed version, it is worth investing as Kentico helps developers to create the website in half of its time as compared to other CMS platforms. Moreover, Kentico has a huge set of comprehensive features, customization levels, and robust security making it the best choice for businesses who want to create top websites both on cloud & on-premises.
WordPress CMS
Started as a simplistic blogging purpose, WordPress won the attention of both users as well as developers within the short time of its launch. With a user-friendly interface and customizable design, this platform is used to build an extensive range of websites. Considered as the most reliable Open Source, WordPress CMS has a huge community with several themes, widgets, and plugins. The only problem is related to regular security updates & plugins that may have security breaches. You have to get in touch with your development company to acknowledge more!
Joomla
Joomla is a very interesting solution for quickly creating an online store or other sites. But you need to understand the main advantages of this CMS to call your choice conscious because certain disadvantages must also be taken into account.
This CMS is considered one of the most demanded and popular. You can create a website using this engine quite quickly, without additional problems. Joomla allows people who do not have a lot of PHP experience to create quite complex projects.
The main benefits of Joomla
Availability
Easy to install
The system is open source.
A huge number of components and modules.
Quite simple and practical to create a website.
The system is regularly updated, new useful modules appear.
Help in solving complex issues.
Universal CMS and is suitable for most modern hosting.
Drupal
Companies and individuals are fine-tuning their sites to have convenient content management for their online resources and therefore they take into account the pros and cons of a content management system. Despite the abundance of all kinds of content management systems for the site, it is extremely difficult to choose the right one. Drupal is considered to be one of such CMS.
A Drupal-configured site allows users to manage the site's content without resorting to the services of a web developer.
Benefits of CMS Drupal
Open-source.
Developer orientation.
Creation of advanced sites.
Community software solution.
Convenience and versatility.
Magento
Magento is one of the most popular e-commerce platforms. With its help, users will be able to create huge online stores with much different additional functionality. Magento CMS is made on PHP and MySQL and has open-source code, which means that it can be modified and adapted to your own needs at any time. At the moment, the platform is completely owned by Adobe.
Magento was originally developed to provide e-commerce services. The developers position their product as the easiest to learn, but newcomers, due to the lack of a built-in visual designer, still have to study its features a little and understand the functionality. For more advanced users, Magento will not be a problem.
Bottomline
CMS helps in developing the website & managing content efficiently. We hope this blog helps you in finding the most suitable one among the list of favorite CMS. Analyze your needs thoroughly to avoid investments in the unworthy CMS for you. If you are considering going for Kentico CMS for creating your new website or upgrading the version of an existing one, consult the experts of Raybiztech, the leading Kentico development agency. Let's make your website give a new height of achievement with the best CMS & control your business content to produce the right content at the right time.
About Ray Business Technologies
Ray Business Technologies is a leading global Information Technology (IT) Services and Solutions, a CMMI Level 3, ISO 27001:2013 Certified Company. We are a Member of NASSCOM, HYSEA, NJTC, and AIIA. Ray Business Technologies offers comprehensive end-to-end IT Services for Business Application Development, Enterprise Solutions, Enterprise Collaboration Services, Testing and Quality Assurance Services, Cloud Computing and IT Infrastructure Management to organizations in the Banking & Finance, Insurance, Healthcare, Manufacturing, Retail, Media & Entertainment, Leisure & Travel, Telecom and Energy & Utilities verticals as well as Independent Software Vendors.