How to evaluate the best Kentico Developer for your upcoming project?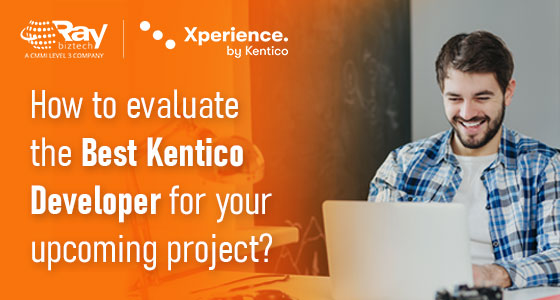 It is very important to remember that each time details are necessary to run a successful project and business development. To get involved with the Kentico web development project management you need to take care of everything. Moreover, the primary objective of the process is to lend you, Integration Specialist, project manager and System Architectures etc which gives you an easy guide to know about the Kentico CMS project development method step by step, before the end execution. With plenty of resources, you can complete the projects quickly while gaining high-quality products by maintaining an affordable price.
You can always find information easier to navigate more technical support for your particular project. The Kentico web developer attempts to provide new documentation material which does not contain the same technical data you can get in different Kentico CMS documentation.
Objectives
Kentico web development has developed a DG site primarily to show the advanced elements of the Kentico Enterprise Marketing Solution edition which was introduced. Besides, the site includes several e-commerce characteristics and online marketing that the EMS version provoked.
The presales presentations are the most important nowadays and that's what the site aimed at, to clarify the enterprise details of Xperience. Kentico developer wants to provide the full picture of what's in Xperience for shop administrators, content writers and marketers by proposing a quick sneak look for creators into possible performance strategies. The business user is the main persona here not the developer.
Development and Project Management with Kentico Web Development
The main goal is to give you valuable information and can assist you to get the best quality of data for your certain project. The most important part of doing a project is to make sure that you have prepared yourself enough to make this project a successful one. Initial planning can turn your failure into winning. Don't fail to plan, a healthy mind is a way to think creatively. By executing a project can save more time than you have ever imagined. First set your goals and then move towards the goal.
Failure is also a part of getting success. If you fail that doesn't mean you will never look for success. A failure can get you a win. Make sure that if you make a wrong decision, try to correct it but the right decision making later can't be able to live with your problem.
Why does most of the project fail?
Generally speaking, IT projects face failures due to not reviewing the feedback and giving responses to the customers. Few developers fail to see the competition. Hiring unprofessional designers can lead you to failure. Lack of skills and project planning, if not done in time can increase your risk. The ongoing cost of websites and not meeting the requirements and needs of the project goal.
Project Achievement
Most of the study disclosed that the main reason why the project fails is due to the low project management during an operational phase. You need a skilled team and multidisciplinary talents to run a large complex web development which is often a challenging task. Nowadays, the only thing to succeed in a complex information technology environment is the potential to govern projects effectively and efficiently.
Conclusion
By getting support from the Kentico developers which provide a predefined set of methods that are already designed to help you guide for managing, developing and planning and even for executing the Kentico CMS projects. You can get the exact information you are looking for in your project and even they can assist you to clarify your problems and boost your performance and promote a focus on objectives.
About Raybiztech
As the Kentico Xperience 13 Gold Partner, Ray Business Technologies carries a competitive track record in all facets of Kentico development, upgrade, and maintenance. Our team of Xperience professionals can understand the modern requirements of creating and executing campaigns. Raybiztech offers full-cycle projects around Xperience by Kentico with a focus on customer satisfaction and the fulfillment of precise requirements. We deliver all the essential ingredients in order to improve brand consistency and to drive business goals.