How Azure helps leverage Kentico capabilities?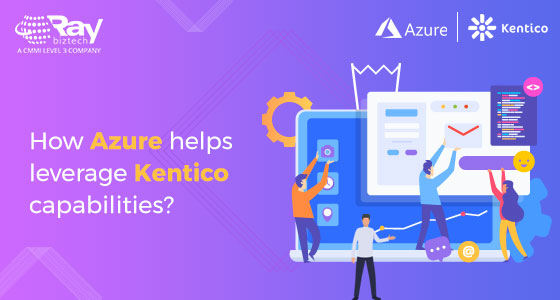 Kentico offers some of the most advanced ways of creating websites and running marketing campaigns, and known for offering an unmatched experience with the use of Microsoft Azure. Kentico has been available on the Azure cloud since 2011,enabling businesses to complete their success stories. A survey carried out to assess Kentico Azure capabilities pointed out at advantages businesses had with respect to patches, scaling up, maintenance, and capitalizing on server capacity as and when required.
By virtue of Azure website capabilities from Microsoft cloud, Kentico would dodge any limitations in terms of the architecture and design of applications. It would rather bring more speed and ease of use, and get projects completed in record time for a faster turnaround time. At the outset, it might be difficult to measure the direct impact in terms of an increase in ROI. A firm's Azure deployment might not actually reflect directly on an increase of revenue, or measure website performance accomplished by Kentico on a short-term basis.
In a nutshell, the respondents to the survey displayed positive results from moving Kentico to the Azure platform with a view to long-term cost benefits, ease of implementation, and smooth setup of operations. A firm reported cost-savings of one-fourth of the IT budget, as marketing team shouldered the responsibilities for updates that were typically handled by core technology personnel.
Let us look at the benefits of running Kentico application on the cloud:
Kentico has conducted a usability survey of clients and agencies using Azure-hosted applications, and has come up with positive feedback in terms of content management, online marketing, and e-commerce solutions. This has enabled optimal digital project implementation, apart from various other crucial benefits:
Kentico allows businesses to run on Azure without any hassle by virtue of a single installation
Azure is the go-to platform for hosting diverse and powerful content management applications
Schedule and rule-based auto-scaling, in addition to native Azure CDN geo-redundant storage
Diagnosis and troubleshooting of performance issues with ASP.NET Apps application insights
An Azure SQL Database implies minimal bottlenecks and an almost negligible maintenance
Efficiently deployed over Azure, the application is tested without explicit human intervention
Azure-based Kentico applications assess performance with load testing under peak conditions
The performance of Azure cloud-based application underlines Kentico and Microsoft capabilities
Azure DevOps, Mobile Apps, Logic Apps, and API Apps enrich the overall Kentico functionality
In general, there is a sense of ease and comfort from cost-savings for sites using Kentico in an Azure environment. A business that was into home-care for seniors reported a turnaround of eight hours in setting up DevOps for Kentico using Azure platform, an effort that would otherwise require a typical duration of 80 hours.
About Raybiztech
Raybiztech is a leading global Information Technology (IT) Services and Solutions, a CMMI Level 3, ISO 27001:2013 Certified Company. We are a Member of NASSCOM, HYSEA, NJTC, and AIIA. Raybiztech offers comprehensive end-to-end IT Services for Business Application Development, Enterprise Solutions, Enterprise Collaboration Services, Testing and Quality Assurance Services, Cloud Computing and IT Infrastructure Management to organizations in the Banking & Finance, Insurance, Healthcare, Manufacturing, Retail, Media & Entertainment, Leisure & Travel, Telecom and Energy & Utilities verticals as well as Independent Software Vendors.