Content Management has become easier and user friendly with Kentico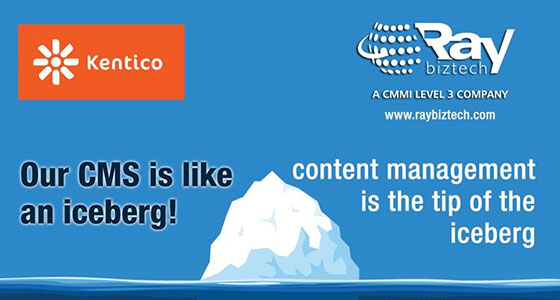 Have you ever seen an iceberg from top to bottom? Imagine Kentico CMS as an Iceberg, where you see amazing All-in-one CMS, E-commerce, and Online Marketing platformas the tip of the Iceberg, but Hidden beneath the surface are Kentico's extensive robust features and endless commitments to serve you better!
Content Management Systems (CMS), are intended to manage the entire content of the website. They offer a comprehensible interface that allows content editors/managers to view, analyze, and edit the pages on the site. Here the content editors need not be an expert in web technologies and may not be a trained programmer.
Kentico's many built in templates allows you to choose from various Files, Images, and Video Media Libraries and some of the unique features makes Kentico the best CMS too. You can easily create campaigns, emails along with content personalization that would help you to create a dynamic website that aims to provide an enhanced user experience. Given that Kentico is a well-developed CMS built on ASP.NET MVC Support, the platform recognizes the need for a website to support engagement and convert visitors, and this why the new Kentico comes up with Advance search option that quickly locates the content after a thorough analysis.
With Cloud Support: Azure and Amazon, fewer technical needs to design emails, easy Document Management, and additional testing capabilities, Kentico promises to make life easier all kinds of Content queries.
Portal Engine Workflows in Kentico allow moving content through a series of pre-defined steps. These steps are easily created and configured in the Kentico system and can be quickly applied to any or all content.
Widgets are now accessible and work very alike to widgets on web pages. These widgets are built out in the dancing goat site – which is already present as a site template with a Kentico install. You can copy these and/or create your own personal email widgets into a new site project.

Developers (or tech savvy marketers) can create an unlimited number of widgets. No back-end coding is needed to develop. They can be created right in the admin interface using HTML, CSS and macro knowledge.
A new Salesforce CRM integration has been included for sales and marketing, where it enables developers to quickly connect with their target audience more effectively and gain a better understanding of the customer experiences. With an additional Email marketing feature Kentico comes with a newly designed Email Builder that allows for drag-and-drop formation of e-newsletters and email campaigns along with an in-browser preview outlook for both desktop and Mobile Support.
Kentico is one of the best CMS known specially for its unique features like segmentation and Market automation that helps to understand markets well. You can easily do Multiple Currencies Payments. Kentico keep evolving with continuous Integration process and always provides with systematic approach.
Kentico is one of the fastest growing CMS today, and we at Raybiztech are Kentico GOLD Partner, and offer comprehensive Kentico Solutions to leading enterprises globally. Raybiztech can assist you in strategic planning, Architecture, Audit, Integration, Migration and number of other Kentico Solutions. We have worked with MNCs to select best Kentico License suited for their CMS requirement.
Kentico has various CMS versions; Kentico Base, Kentico Ultimate and Kentico Enterprise; and all of these versions have significant features included. You need a Licensing expert like Raybiztech, who can help you to save your precious dollars.
To know more about Kentico and how it would help your business, kindly get in touch with us.