All that you should know about Kentico Kontent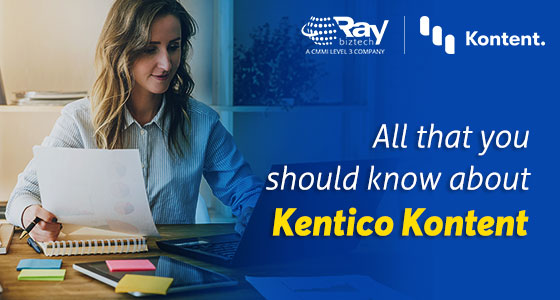 The new name for Kentico Cloud is Kentico Kontent. Content creation is a messy industry, and organizations consistently struggle to synchronize and streamline content across their entire enterprise. With the rebrand, the headless CMS has completed its transition into CaaS (Content as a Service). As a company grows, its network becomes increasingly complex.
Content that is duplicated across different CMSs, buried in silos, the inability to collaborate effectively, continuing delays in content production... These challenges are inherent to content management, and they are exactly what Kentico Kontent's CaaS is poised to address.
There will soon be no more copy-pasting content created in Word, then sharing revisions over email and copy-pasting it into your CMS. This is the plan, at least.
Is Kentico Kontent Open Source?
Although Kentico Kontent has several SDKs (software development kits) and open-source tools, its software is proprietary (closed source). It does not appear there will be an end to the ongoing debate between open-source and closed-source software. Support and service for privately developed software are usually better than those for publicly funded software.
Because open-source software is developed by many more developers, it can sometimes be perceived as more innovative (not always). Furthermore, it is generally free, but there might be add-ons for a fee.
First, create content, then design
Having designed for the web for over a decade now, it is now widely accepted that content trumps aesthetics.The goal of web design used to be to create something visually appealing or beautiful. We just added the content afterward. A dummy text box was placed in wireframes to be filled later with content that meets the requirements.
CaaS (the cornerstone of the content-first approach) acknowledges the supremacy of content on the modern web. Designing around a product's target messages means creating content first. Flashy websites no longer impress anyone. It should be as quick as possible for you to arrive at the content.
Features of the Platform as a Service:
APIs are used to deliver content
A central location to store and manage data
Establishing workflows and authorization procedures
Creating content based on the chosen model
API access can be used to determine metadata definitions for content production
Providing Content through Services
Here are some classical use cases of Content as a Service, based on the above motivations:
Content-Rich Mobile Apps
Web content isn't always compatible with mobile apps. However, if they use specific components to render it, the content will still be noticeable.
It does not make much sense to produce web content, and not make it available to browsers. If your content is supposed to be displayed only within a mobile app, you will benefit greatly from separating content and representation and letting your own app perform the rendering as efficiently as possible.
Needs Multichannel Communication
You can also reach your customers through various channels such as Web, Mobile, SmartWatches, SmartTVs, and (why not) your SmartHome if you've got to deal with multiple devices at once. Ultimately, what you need is a way to distribute that content centralized.
Providing Content as a Service is one of the reasons why we have these types of providers. You need not do anything extra to work with one of them. Customers (or content consumers, as you might call them) are in charge of deciding how to utilize your content.
User Experience that can be Customized
Your content consumers have another use case if they can customize how your content appears to them. You can let your clients choose different pieces of the content for users based on the API, in a generic format, through the use of JSON that you provide. Different consumers would be able to render the exact same piece of content in different ways with this approach.
Analysis and Marketing of Content
Marketing platforms also use NLP (Natural Language Processing) techniques to understand content in order to present content differently and reach other media.
Here are some examples:
To ensure an article conveys the intended message, sentiment analysis is performed to determine the tone.
Content keywords are automatically analyzed to create automatic topic generation and tagging.
Analyzing the performance of content conversion based on reader behavior.
It is even possible to build virtual assistants and chatbots based on your knowledge base to provide extra assistance to customers.
Conclusion
This has hopefully provided you with some insight into what Content as a Service is, how it functions, and why, if at all, you would want to use it. An essay written by Bill Gates concluded that content delivery through the Internet is more efficient than distribution via any other channel in 1996.
Among the exciting aspects of the Internet, he said, is that anyone can publish whatever content they want using a PC and a modem. Photocopiers are multimedia versions of the Internet in a way. The cost of duplicating material is low, regardless of audience size."
Kentico Kontent allows you to centralize all your content. Using a single platform, a team can collaborate easily and deploy and manage content across different teams within the organization.
The benefit of content as a service is that it allows systems to scale without affecting performance and also serves multiple audiences at the same time.
We'd love to hear if you've used any of these systems and how you liked them!
About Raybiztech
As the Kentico Xperience 13 Gold Partner, Ray Business Technologies carries a competitive track record in all facets of Kentico development, upgrade, and maintenance. Our team of Xperience professionals can understand the modern requirements of creating and executing campaigns. Raybiztech offers full-cycle projects around Xperience by Kentico with a focus on customer satisfaction and the fulfillment of precise requirements. We deliver all the essential ingredients in order to improve brand consistency and to drive business goals.