Manage your Business better with Electronic Point of Sale (EPOS) System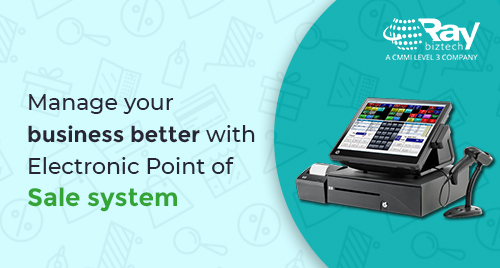 An EPOS system is a tool that allows efficient record keeping system of the sale of goods or services to customers. Electronic Point of Sale (EPOS) also acknowledged, as Point of Sale (POS) is the instance when a transaction is undertaken and the buyer makes payment to the seller for the purchase of particular goods or services. Once a buyer makes a decision to buy the product, he is moved to the checkout process where an invoice is generated by the system and the buyer is offered various payment options to choose from to pay the amount mentioned in the invoice. Generally, this is when the seller would then issue a receipt for the purchase made.

EPOS (electronic point of sale) integration means linking key business operations through a single, easy to use software system. This means, a well-developed EPOS system needs to be user-friendly, comprehensive, and that which manages your supply chain processes in a cost effective manner. This result in retailers working more efficiently, which in turn decreases overheads and maximizes profits.

A major reason for retailers taking up an EPOS system and the most obvious is the doing away with conventional price tags attached on the products themselves. All prices are instead connected to each product through the EPOS system and the cashier simply needs to scan the code on the product for the sale to be made. Also giving you the ability to make price changes to ranges, changes to stock or discount or loyalty offers a lot easier and efficient.

By integrating your website with an EPOS system, you are effectively opening up a new shop for your business. The connection between your EPOS system and your website means that modifications made within the EPOS system (such as new products, price changes, and stock fluctuations) are directly reflected in the website itself. This ensures data accuracy and automation of website management.

Benefits of EPOS system
Improve Inventory Management by tracking stock volumes and product turnover. This way you can easily fill in the inventory as per product requirement and you can easily determine the trends of product consumption. Thus, you can plan arrangement of goods and optimize store space.
Using Data Analysis for better business management. EPOS system records all necessary sales data in the forms of charts, graphs, and reports that help in determining financial flows. As these EPOS systems are cloud-based, all the data can be stored on a daily, weekly, and monthly basis. This ensures accurate data backups.
Customer Satisfaction is the key for any business. With an EPOS system, scanning products and taking payment transactions now only takes few seconds. Thus, checkout process has become faster and easier. Another great feature, EPOS systems give information about stock availability, which allows customers to check the product availability. Your customers need not wait longer to know if the product they are looking for is available or not.
Improve Your Customer Loyalty Programmes through EPOS systems. As EPOS systems have a feature of collecting entire customer data, it helps in classifying customers and creating loyalty programmes accordingly. You can now created personalized discounts, promotions, offers for every individual customer as per their purchasing habits. EPOS systems also help in building customer profiles to better understand the customer choices.
Save Time and Money by automating all the process through EPOS system.
By implementing an EPOS system in your current business process, you can efficiently manage the business operations.
About Raybiztech
Raybiztech is a leading Global Information Technology (IT) Services and Solutions, a CMMI Level 3, ISO 27001:2013 Certified Company. We are a Member of NASSCOM, HYSEA, NJTC, and AIIA. Raybiztech offers comprehensive end-to-end IT Services for Business Application Development, Enterprise Solutions, Enterprise Collaboration Services, Testing and Quality Assurance Services, Cloud Computing and IT Infrastructure Management to organizations in the Banking & Finance, Insurance, Healthcare, Manufacturing, Retail, Media & Entertainment, Leisure & Travel, Telecom and Energy & Utilities verticals as well as Independent Software Vendors.