6 Trends that will change Business Management Systems in 2022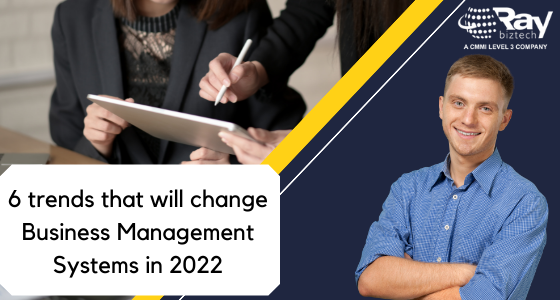 With each passing year, the development of technology adds new solutions to help more efficient business management. And while artificial intelligence, the Internet of Things, and machine learning are now deeply integrated with management systems, businesses are constantly discovering new applications of these and other technologies to meet the progressively increasing volume of information and growing customer expectations.
The ability to communicate in natural language with software systems, embedded business analytics, and augmented reality technologies are some of the most interesting trends, the growing influence of which we will feel in the sector of business management systems in 2022.
1. Natural language communication between users and Business Management Systems
Natural Language Processing communication between humans and software systems is nothing new. From Google's voice search to chatbots and voice assistants, people no longer find it strange to "talk" to machines, but this trend continues to find more and more applications. In 2022, Natural Language Processing (NLP) will find a new application in business analysis environments, changing the way people interact with data.
Natural communication is expected to give a much wider range of users access to the benefits of visual analysis without the need for in-depth knowledge to work with the solutions themselves. We will see NLP in the field of analysis in action at the beginning of the year with the release of the new version of the leading solution for business analysis.
2. Analytics built into Business Management Platforms
Another trend that will be followed by the development of data analysis systems is the desire to shorten the distance from users to the data by placing the analyzes where they are needed. The so-called embedded analytics (Embedded Analytics) allows data to be interpreted at the moment and the place of their origin and reduces the time to make informed decisions and take action based on accurate and reliable information.
3. Artificial Intelligence will make predictions and help make decisions
Artificial Intelligence has been influencing business management systems for several years and 2022 will be no exception. AI technologies will play an increasingly important role in all areas of ERP, CRM, and BI systems, as major developers of such software are actively working in this direction.
Another area in which we are expected to see the growing presence of artificial intelligence is the formulation of forecasts, predicting the need, and taking action to meet them without the need for human intervention.
4. Automation of Routine Processes
Automation is one of the main advantages of business management systems. Stepping on the ever-widening application of artificial intelligence and machine self-learning, the so-called Robotic Process Automation (RPA) is gradually covering a growing number of routine processes and activities in both ERP systems and customer relationship management (CRM) solutions.
Bots will increasingly be used in the automation of manual processes such as opening and sorting emails, reading databases, filling out forms, making calculations, processing invoices, reports, tracking customer behavior, identifying sales opportunities, etc. This will reduce the chances of making mistakes, while people will have more valuable time to use for more creative activities that are beyond the reach of machines.
5. Augmented Reality for Business
Businesses are quickly realizing what benefits they can derive from each new technology that appears on the market. In this way, Augmented Reality has already found its place in business management and analysis solutions and will continue to grow rapidly.
As part of CRM systems, augmented reality devices are already used in services, allowing service professionals to access a rich library of information and expertise in real-time, which increases their ability to quickly cope with complex tasks. It is expected that in 2022 we will see many new applications of the technology, which will enrich the capabilities of software management solutions.
6. Complete Integrated Cloud Solutions
Cloud technologies are the present and the future of business management systems. This is evident not only from the continuing rapid migration to cloud architectures but also from the overall reorientation of developers who give higher priority to their "cloud" solutions.
The flexibility of the cloud environment supports the transformation of individual management systems into complete integrated solutions, covering more and more business processes, including those focused on human resources, marketing, and marketing automation, office productivity, and more.
Ray Business Technologies has been leading many Digital Transformation initiatives with leading enterprises in the world. Ray Business Technologies has also conducted various workshops, seminars and webinars to help companies to embark on Digital Transformation journeys.
Is it time for a digital transformation of your business? The experts of Ray Business Technologies are ready to help you make the best decision for the management of your company. Contact us now.
About Ray Business Technologies
Ray Business Technologies is a leading global Information Technology (IT) Services and Solutions, a CMMI Level 3, ISO 27001:2013 Certified Company. We are a Member of NASSCOM, HYSEA, NJTC, and AIIA. Ray Business Technologies offers comprehensive end-to-end IT Services for Business Application Development, Enterprise Solutions, Enterprise Collaboration Services, Testing and Quality Assurance Services, Cloud Computing and IT Infrastructure Management to organizations in the Banking & Finance, Insurance, Healthcare, Manufacturing, Retail, Media & Entertainment, Leisure & Travel, Telecom and Energy & Utilities verticals as well as Independent Software Vendors.