5 Reasons Why Your Company Should Use an ERP System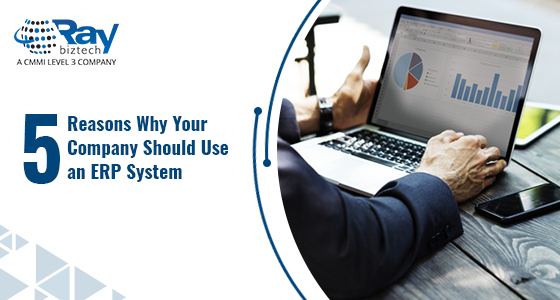 The evolution of technology platforms and growing awareness among firms to manage their costs and employ technology for optimizing their processes has brought a transformation in enterprise planning over the last decade. More organizations currently look forward to a standard all-in-one Enterprise Resource Planning solution to manage costs and drive business performance in order to, build an overall brand recognition, improve customer satisfaction with stable products and reliable services, and ultimately beat competition from the rivals.
Below are the five crucial factors that necessitate firms to configure and deploy an ERP, in order to reap the benefits of an ERP system in an organization.
Integration
A well-integrated ERP takes into account the needs of individual functions such as human resources, finance, sales, and operations, so technical and functional units can communicate with each other, yet they remain part of a single and stable system. However, the individual components can behave and operate exclusively,as one module can communicate with the other at an autonomous level.
Data Security
Adopting an ERP eliminates the need to have third-party solutions for data security, which ensures consistent data across the enterprise, as the all-in-one solution offers bundled data security and integrity features. This will save the enterprise from incorporating explicit data integrity tools, as preserving data from disparate systems can be a tedious task. An ERP increases the usability of the system as a whole, giving users the required views of underlying data. The high-end integration of information also prevents the loss or theft data.
Performance Management
With yesterday's legacy systems, productivity and milestones were recorded manually, and a number of documents were created to store that information, that led to bottlenecks in overall workflow. With benefits of ERP system in an organization, firms can keep abreast of data pertaining to daily operational tasks and efforts spent on projects by leveraging performance management features, which can deliver timely and accurate data about estimated and actual efforts spent by the resources. This prevents bottlenecks and minimizes project costs and overruns.
Storage
With growing businesses, enterprise data size gets bigger and bigger. A stable ERP offers companies an unlimited space to store data. Large tech firms like Amazon, Google and Yahoo offer storage space with provision for ample amount of data that is generated with day-to-day operations. The ERP saves resources and costs with an efficient storage of data, thereby allowing firms to make timely and informed business decisions.
ROI
Deploying an enterprise solution allows an organization to break even smoothly from the Cost vs Benefits perspective. An ERP lets you break even in a small-time frame by freeing up capital that can be invested in external projects, as well as saving on most of the overhead costs.Thanks to a better view of stock levels and the minimal expenditure to maintain an optimum inventory, firms can expect an overall higher rate of return once an ERP is deployed to run with the system.
About Raybiztech
Raybiztech is a leading Global IT Services and Solutions, a CMMI Level 3, ISO 27001:2013 Certified Company. We are a Member of NASSCOM, HYSEA, NJTC, and AIIA. Raybiztech offers comprehensive end-to-end IT Services for Business Application Development, Enterprise Solutions, Enterprise Collaboration Services, Testing and Quality Assurance Services, Cloud Computing and IT Infrastructure Management to organizations in the Banking & Finance, Insurance, Healthcare, Manufacturing, Retail, Media & Entertainment, Leisure & Travel, Telecom and Energy & Utilities verticals as well as Independent Software Vendors.