Why should you prefer Boomi over other integration platforms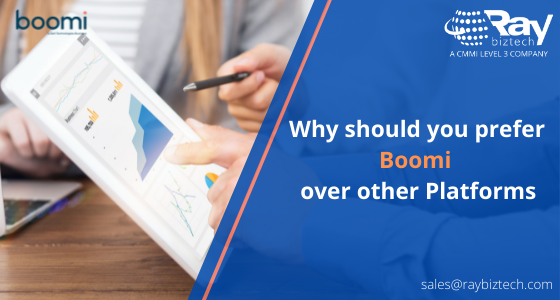 Boomi is an integration platform as a service (iPaaS) that enables the connection of applications and data sources. It is a low-code development platform that provides API's, lifecycle management and event-driven architecture features for cloud integration. Boomi's multi-purpose iPaaS platform offers intelligent connectivity and integration solutions.
Boomi is the right choice if you are looking for a faster and Agile integration. Boomi is built on a multi-tenant architectural platform and provides the most scalable and efficient integration between cloud, SaaS and on-premise systems which some of the other platforms may not provide.
Following are the some of the reasons why one should consider using Boomi compared to others platforms.
Multi-platform
Leveraging the ability of the cloud, Boomi's single instance multi-tenant platform provides all the advantages of the cloud, as well as flexibility, agility, style patterns, quantifiable, availability, redundancy and upgrades.
Drag and Drop feature
Boomi comes with pre-defined modules with drag and drop feature for easy integration, thus ensure the speed and flexibility to support a wide range of projects. Boomi platform comes with a huge list of connectors to integrate with any application with ease for smooth work flow. This also provides on-demand integration solutions, where users can select the integration pattern that suits their business.
Data Management
Boomi help companies to you with quick real-time synchronization, consolidation and governance of data across various applications that provides a unified view of data management and thus enable businesses to project a transparent view of the complete data across applications. It measures and categorizes the data that enables businesses to work on more innovative applications. Boomi platform helps in business decisions while scaling up operational efficiencies and increased visibility.
High level Security
Boomi's security platform comes with a 3 tier full-stack security framework for both on premise and on cloud, that offers
Network & facilities infrastructure
Application & platform layer
Data level
Cloud Solutions
Boomi's unified integration platform provides easy access to all devices and applications regardless of on-premise, cloud or a combination of both. This platform is equipped with standalone modules: AtomSphere, MDM and API management functionalities. It also provides end to end capabilities with ease.
About Raybiztech
Raybiztech is a leading global Information Technology (IT) Services and Solutions, a CMMI Level 3, ISO 27001:2013 Certified Company. We are a Member of NASSCOM, HYSEA, NJTC, and AIIA. Raybiztech offers comprehensive end-to-end IT Services for Business Application Development, Enterprise Solutions, Enterprise Collaboration Services, Testing and Quality Assurance Services, Cloud Computing and IT Infrastructure Management to organizations in the Banking & Finance, Insurance, Healthcare, Manufacturing, Retail, Media & Entertainment, Leisure & Travel, Telecom and Energy & Utilities verticals as well as Independent Software Vendors.