Unifying Assets and Systems with Dell Boomi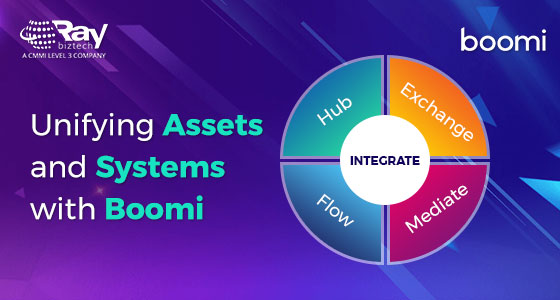 One of the biggest concerns most people have with innovations and integrating to cloud-based systems is that information or infrastructure will be lost or that the period of transition will be tedious and difficult to understand. However it is usually not the case, it is possible to unify all pre-existing systems and assets with a newer and more innovative system like cloud-based systems. Working with Dell Boomi is one way of ensuring that you do it lose applications and customer information when you switch to a server-less system. Dell Boomi unifies data across all platforms so that you can easily access information from anywhere at any time. Below are the ways Dell Boomi unifies data, applications, processes, and systems with existing assets.
Unifying data with Dell Boomi
Dell Boomi unifies entire data applications and environments by serving as an engine where companies and customers can exchange information. It links management systems and a number of bespoke and unique applications into a single hub where information can be easily accessed at any time. This way large volumes of data can be easily managed and accessed from different bases to enable better customer services. Managing large volumes of day can be difficult especially when they come from different sources in many formats but with Dell Boomi which uses an easy integration platform and drag and drop function, companies can quickly access this data with just a click of a button,thus freeing up staff from spending months developing workflows to manage these various forms of data.
Unifying applications and processes with Dell Boomi
Dell Boomi uses its Boomi Flow development solution to quickly create and unify applications that bring processes, people and systems together. Boomi Flow can help create and streamline tasks like employee recruitment, on-boarding, and training in a way that lets everything stay connected and applications are so unified that it is able to spot replicated information in several applications and have them flagged so they can be resolved. Boomi Flow has even been used to create mobile applications and it is one of the only software that joins application integration and workflow automation on a cloud-based platform. It is also able to help customers connect data sources and applications via its integration platform. Boomi Flow enables businesses to change simple processes to more sophisticated and more efficiently run processes so that you have more time to focus on your business. It encourages connectivity across systems from mobile applications to mainframes and enables data exchange and automation.
Connecting existing IT systems and assets with Dell Boomi
With an easy to use a cloud-based system, you can manage your networks made up of people from all around the world from wherever you are. The centralized portal makes it easy to monitor all interactions and systems in real time. If you already have existing IT systems on the ground and on-site assets and servers, connecting them to Dell Boomi so that all preexisting information is easily assimilated into the cloud-based storage is possible. To ensure that your business does not face any hitches as you move from legacy systems to more flexible server-less systems, You can connect your old systems with your new cloud infrastructure by allowing the cloud computing components to access the data in your existing systems through the use of API management.
Conclusion
As your business adopts new solutions, there is no need for a complete change in all of your workflows, processes or systems. The new solutions are simply here to make your business run more efficiently and they can be easily unified with the existing systems so that your business operations do not stop.
About Raybiztech
Raybiztech is a leading global Information Technology (IT) Services and Solutions, a CMMI Level 3, ISO 27001:2013 Certified Company. We are a Member of NASSCOM, HYSEA, NJTC, and AIIA. Raybiztech offers comprehensive end-to-end IT Services for Business Application Development, Enterprise Solutions, Enterprise Collaboration Services, Testing and Quality Assurance Services, Cloud Computing and IT Infrastructure Management to organizations in the Banking & Finance, Insurance, Healthcare, Manufacturing, Retail, Media & Entertainment, Leisure & Travel, Telecom and Energy & Utilities verticals as well as Independent Software Vendors.