Top 5 Things People Assume Wrong About Dell Boomi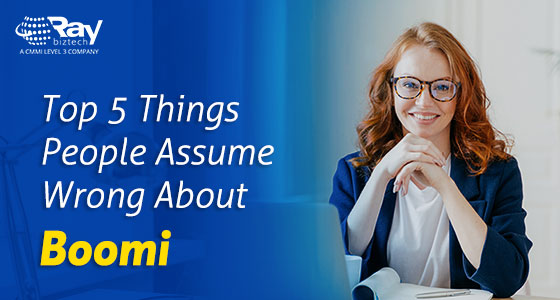 Dell Boomi allows data integration solutions & tools designed to implement businesses for the highest productivity. In this blog, we provide precise insights into the solutions that Dell Boomi offers.
People typically get the answers that Dell Boomi offers & how it grew an industry leader wrong. That is our main focus in this blog. Organizations like Dell Boomi survive because of the need for companies to integrate their projects. Companies apply a wide variety of solutions and tools in their regular operations. To coordinate different solutions & tools, the application of integration platforms is essential.
Dell Boomi is in the business of connectivity & has made a signature for itself. Boomi's ability to rule the industry as an integration platform is similar to the following features.
They think it will be incomplete
A licensed feature, this is another tool behind the success of Boomi. Atom is in charge of the control of business processes. Users of Boomi deploy the Atom after they make integrations. Atom handles business processes by observing integration activity & initiates connectivity to the platform. Atom communicates integration action to assure routine process change checks and centralized monitoring. It includes all the components (transformation rules, connectors, and business process logic) which are required to perform any business process.
They ignore it has a centralized management system
The centralized management system of Boomi is one of its greatest features. As users build new integration processes, they are all represented on the AtmoSphere furthermore can be operated from there. From the dashboard, users get a great overview of all business processes moreover make the required changes.
They think it needs a lot of coding
The less coding is one of the most immeasurable features of Dell Boomi. It has tiny to no coding requirements just because it enables the method of pre-built integration components. Users can utilize reusable components with the drag & drop mapping tool to perform integrations.
Integrations can be built with Dell Boomi without coding, saving time & resources. This is one of the best reasons behind Dell Boomi making a signature for itself.
They think the integration process is slow
The AtomSphere is accountable for enterprise application integration. With AtomSphere, users can create integration processes effortlessly. The Dell Boomi solution is well-known for its drag & drops feature. Users can drag & drop integration components such as start and endpoints, connectors, and document property elements.
They forget that it is created for their benefit
These three solutions play crucial roles in Boomi remaining an industry leader. Boomi Suggest is directed at maximum productivity & allows users to implement previous mappings in performing integration processes. It implies existing integrations with users. Boomi Resolve, also directed at maximum productivity, helps users to settle issues in less time. It recommends the resolution of general error messages. Boomi Assure is a feature pointed at assuring users that their integration processes will not get separated. Boomi Assure operates by testing data upon all future releases of the AtomSphere. Dell Boomi offers solutions with which businesses can significantly enhance their productivity while applying IFS Applications ERP.
Ray Business Technologies has a proven track record in getting clients' precise technical specifications and readiness for emerging platforms such as Dell Boomi. Our technology developers & consultants can deploy & integrate well-managed systems by state-of-art API management also cloud support to convert your business with a certified Dell Boomi integration as well as an integration approach.
Reach out to us with your Dell Boomi Requirements. Our Certified Dell Boomi Professionals will respond at the earliest.
About Ray Business Technologies
Ray Business Technologies is a leading global Information Technology (IT) Services and Solutions, a CMMI Level 3, ISO 27001:2013 Certified Company. We are a Member of NASSCOM, HYSEA, NJTC, and AIIA. Ray Business Technologies offers comprehensive end-to-end IT Services for Business Application Development, Enterprise Solutions, Enterprise Collaboration Services, Testing and Quality Assurance Services, Cloud Computing and IT Infrastructure Management to organizations in the Banking & Finance, Insurance, Healthcare, Manufacturing, Retail, Media & Entertainment, Leisure & Travel, Telecom and Energy & Utilities verticals as well as Independent Software Vendors.