How NetSuite accelerators enrich Boomi cloud integration?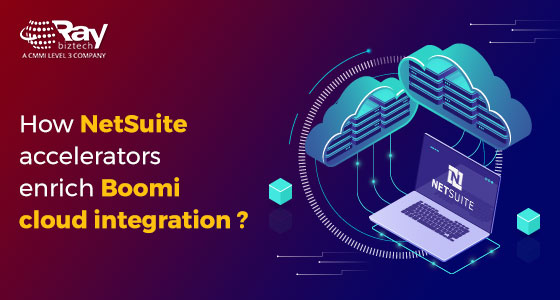 The Boomi platform is enriched with the NetSuite's SuiteSuccess accelerator which will boost business efficiency and increase the time-to-value. Dell Boomi and NetSuite have announced the release of the first of a series of accelerators for industry cloud solutions.
The accelerators can offer seamless transition and Omni-channel experience between orders, fulfillments, inventory, and payments, ultimately leading to customer delight. By leveraging the SuiteSuccess accelerator, businesses are looking forward to those key objectives with greater efficiency. According to a survey, around 1,600 clients associated with NetSuite have chosen Dell Boomi as their preferred integration partner.
The Turnaround Time
Are you looking for a rapid integration turnaround? Businesses can usually implement NetSuite for the first time in a time-span of 45 days. Eyeing shorter timelines, retail businesses look at greater profitability and business agility with the Boomi Integration Accelerator for NetSuite and Shopify; as e-commerce tools are known to smoothly reduce IT complexity and leverage best practices, along with the provision for last mile customizations. These allow firms to sustain key business strategies, apart from adding value and accelerating business growth.
SuiteSuccess: Enabling seamless workflows
The Boomi Integration Accelerator for NetSuite and Shopify will help promote best practices to seamlessly manage functions such as inventory, billing information, and critical data pertaining to automated transactions. An enterprise can chart a step-by-step approach to leveraging SuiteSuccess industry cloud solutions, by initially opting only for those in purview of current business scenarios. Subsequently, the firms might later scale up with the rest of the components or modules.
Let us explore the SuiteSuccess platform that combines the Boomi capabilities through pre-built workflows, dashboards, and KPIs. The SuiteSuccess solution helps accelerate integrated applications in five major ways:
Product Catalog: Product catalog information is kept up-to-date in addition to support for NetSuite matrix items
Order management: Dell Boomi assigns Sales order creation and fulfillment to Shopify, thereby enabling real-time tracking of order status and numbers
Smooth Integration: Boomi Professional Services enable a quick and reliable integration framework with fixed-free accelerators
Managed Payments: Streamline updates and cancellation of gift cards, vouchers, and refunds generated by e-commerce transactions
Inventory Data: Inventory data syncs to offer visibility and control of the stock levels at multiple locations, and avoid stock-outs or back-orders
Vital Connection: Core Software and Business Platform
Boomi has lately been keen on delivering workable solutions that are complete and combined. A professional approach is required to map customer data and business processes, as integration applications are instrumental in connecting across both types of software. Boomi has reportedly taken cues from several implementations that are repeatable. These include a recently completed project that involved a smooth transition between NetSuite solution and the Salesforce platform - by virtue of the Enterprise Data Framework.
Shopify tools and the SuiteSuccess have thereby enabled Dell Boomi platform to deliver a comprehensive combined solution, by plugging data structures belonging to the core software and business platform respectively.
About Raybiztech
Raybiztech is a leading global Information Technology (IT) Services and Solutions, a CMMI Level 3, ISO 27001:2013 Certified Company. We are a Member of NASSCOM, HYSEA, NJTC, and AIIA. Raybiztech offers comprehensive end-to-end IT Services for Business Application Development, Enterprise Solutions, Enterprise Collaboration Services, Testing and Quality Assurance Services, Cloud Computing and IT Infrastructure Management to organizations in the Banking & Finance, Insurance, Healthcare, Manufacturing, Retail, Media & Entertainment, Leisure & Travel, Telecom and Energy & Utilities verticals as well as Independent Software Vendors.