Leveraging Boomi to Streamline Manufacturing Industry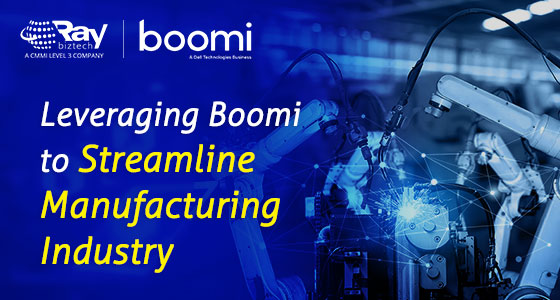 As we all know that the world is moving towards digital and it is revolutionizing the manufacturing industry. Product as a service with a subscription model is just one example of innovation and that requires agility in the way that manufacturers manage the business. Boomi helps manufacturers transform and innovate to deliver value with experience, process, and technology. The Boomi Platform enables smart decisions using actionable data and the power of the cloud that increase customer satisfaction.
Boomi Platform allows manufacturers to quickly and easily connect systems, breaking through data silos to achieve end-to-end operational efficiency and deliver visibility across all aspects of the business.
Now respond to customer demands much faster while optimizing processes and reducing costs. With Boomi one can connect data, processes, resources and technology to optimize value streams and gain a competitive advantage. With the flexibility to integrate any system, Boomi equips manufacturers to realize the ideal of lean operations by refining and streamlining demand planning, sourcing management, factory production, and customer support functions.
Why Boomi?
Reduces the time and cost of integration
Implement integration projects in days
Gain real-time insights across the business
Reorient core processes around the customer
Improve data quality and consistency
Flexible to scale and adapt to business needs
Manufacturers can capitalize on mobile, cloud, and sensor-based big data with Boomi as an open cloud foundation for collaboration with suppliers, contract manufacturers, distributors, retailers, and third-party providers.
Drive Supply Chain Efficiency
Minimize waste and delays by bridging data silos. Build seamless workflows that align all stakeholders throughout the enterprise.
Extend B2B Connectivity
Automate transactions with customers, suppliers, distributors, marketplaces and retail partners. Establish seamless EDI connectivity with Boomi's built-in support for APIs.
Support B2C Channels
Take advantage of direct-to-consumer opportunities by connecting responsive applications and connecting inventory, orders, and customer systems with the ecommerce platform of your choice.
Mergers and Acquisitions
Seamlessly move data between entities, removing the risk of critical system disruption and ensuring business continuity for revenue streams.
ERP Consolidation and Modernization
Avoid issues when migrating from or consolidating legacy ERP systems. Easily move data between systems while maintaining new integrations.
Identify and Correct Defects
Tie R&D and production systems to customer service and warranty claims to track, understand, and remediate problems. Eliminate guesswork and accelerate time-to-resolution for production and QA issues.
Automate Maintenance
Implement digital devices with low-code workflows to automatically monitor, detect, and create maintenance requests, reducing production downtime.
Heighten Executive Visibility
Support real-time data-driven decisions by connecting disparate applications. Gain a 360-degree view to better understand customers, production output, performance, and profitability
Boomi makes it easy to integrate applications and data without the cost and complexity of traditional middleware. Manufacturers use cloud platform to connect any combination of cloud based and legacy on premises systems, transforming Manufacturers into more transparent, data-driven organizations focused on lean, efficient, and customer centric operations.
About Raybiztech
Raybiztech is a leading global Information Technology (IT) Services and Solutions, a CMMI Level 3, ISO 27001:2013 Certified Company. We are a Member of NASSCOM, HYSEA, NJTC, and AIIA. Raybiztech offers comprehensive end-to-end IT Services for Business Application Development, Enterprise Solutions, Enterprise Collaboration Services, Testing and Quality Assurance Services, Cloud Computing and IT Infrastructure Management to organizations in the Banking & Finance, Insurance, Healthcare, Manufacturing, Retail, Media & Entertainment, Leisure & Travel, Telecom and Energy & Utilities verticals as well as Independent Software Vendors.