Dell Boomi is now leading Enterprise Integration Platform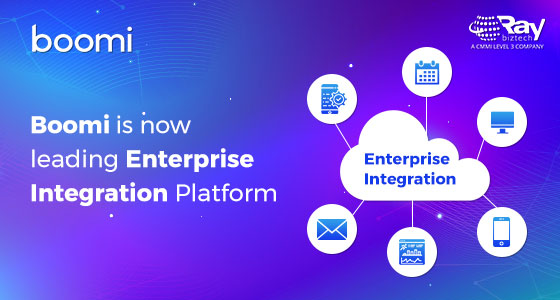 Enterprise systems that exist on one end need to be integrated with CRM like Salesforce for streamlining businesses with automated functions. Dell Boomi is an integration multi-tenant platform that has taken the cloud storage space by storm. Let us examine the unique proposition and core PaaS functionalities offered by the Dell Boomi offering.
Boomi: The Beginning
An independent venture, Boomi was founded in 2000 and started offering configuration-based integration. The unit was ultimately acquired by Dell in 2010. The firm offered on-premise application integration technology, subsequently adding the customizable canvas tools for designing integration process based on drag-and-drop interface, which was referred to as the Visual Integration Technology. However, the real transformation came in 2007 with the debut of the cloud-driven component, the AtomSphere. In order to deploy underlying code seamlessly, atoms – cloud-based integration processes - play a vital role, as those can be upgraded remotely from the central Boomi platform.
Boomi had essentially been a niche offerings provider until Dell actually took over. With the new era, Dell Boomi focused more on delivering greater business value and strengthening its brand by fulfilling the needs of technology specialists as well as functional associates who are empowered with operational insights, robust interface, powerful dashboards, and well-integrated data across diverse business platforms.
In recent years, The Dell Boomi offering has been performing as a rock-solid solution across a set of services apart from core application integration – such as Master Data Management, API Management, and EDI capabilities, powered by advanced AS2, SOAP/HTML or FTP/SFTP protocols and connection configuration protocols.
Dell Boomi has enhanced its capabilities ever since and took a big stride by acquiring Many Who in 2017. The other platform was able to chip in with flexible workflow service to boost mutual coordination among the work-force.
Dell Boomi Components: Pricing and Licensing
One of the most crucial parameters for pricing depends upon the number of end-points an enterprise desires to integrate. Dell Boomi comprises of a set of individual products that ought to be licensed and purchased individually; but could perform and collaborate as an integrated unit. The API Management and Master Data Management features are essentially an extension of the AtomSphere, but not rely or depend on it too extensively.
The pricing structure is based on a tiered usage based on end-points; for instance, the Base Edition (Free Plan) would come with a cost of $549 each month, which cater to two standard integration end-points. The Enterprise Plan, of a higher capability, supports multiple end-points; along with readiness for running test environments and exclusive test conditions under complex business scenarios.
Dell Boomi: A Strategic Option
Software firm eyeing partnership with an integration player that leverages sophisticated features for the end-user would ideally choose Dell Boomi. This would be helpful in terms of deployment, maintenance, as well as save on hidden costs and risks associated with partnering low-end players or platforms.
Similarly, an enterprise mulling a hardcore integration platform with operational excellence as well as a greater degree of flexibility would opt for Dell Boomi as the foremost deployment of choice. Such businesses are seen considering parameters such as returns on investments, in terms of the value as well as the volume.
After Dell Boomi is properly configured and deployed on to the enterprise, one can experience the maximum level of quality and performance that facilitates quick turnaround and delivery. This is enabled by value-added features guaranteed by the single-instance and multi-cloud platform.
Dell Boomi is likely to hold the fort for years to come; as the cloud-based multi-tenant platform for integration, thereby augmented by its sheer API management capabilities.
About Raybiztech
Raybiztech is a leading global Information Technology (IT) Services and Solutions, a CMMI Level 3, ISO 27001:2013 Certified Company. We are a Member of NASSCOM, HYSEA, NJTC, and AIIA. Raybiztech offers comprehensive end-to-end IT Services for Business Application Development, Enterprise Solutions, Enterprise Collaboration Services, Testing and Quality Assurance Services, Cloud Computing and IT Infrastructure Management to organizations in the Banking & Finance, Insurance, Healthcare, Manufacturing, Retail, Media & Entertainment, Leisure & Travel, Telecom and Energy & Utilities verticals as well as Independent Software Vendors.