What is iPaaS - Benefits of iPaaS integration platform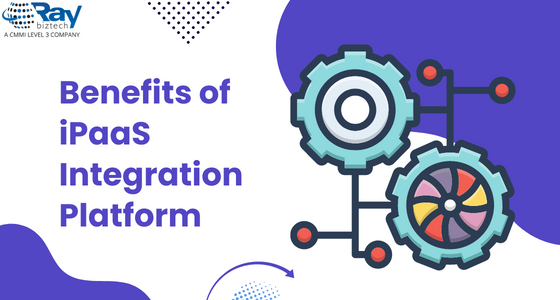 iPaaS (integration Platform as a Service) is a cloud integration platform for hosting, developing, and integrating cloud data and applications. The best iPaaS product solutions include easy-to-use graphics tools to visualize and interact with the big picture of business intelligence.
iPaaS can deliver everything from infrastructure and data warehousing to application design and DevOps environments. In today's cloud migration, the right
iPaaS solution
has the potential to significantly simplify the integration of data, applications, security, and business compliance.
Whether you're starting cloud integration as an extension of your physical environment or building a pure cloud ecosystem, choosing an iPaaS provider is critical to your business's adoption of cloud technology. Here, we will explain how to utilize iPaaS and how to adopt a cloud integration model that uniquely reflects the tools, options, and business needs.
Benefits of iPaaS in the IT Industry
Today, iPaaS products allow you to design all platforms in the cloud, including the network itself. As cloud availability and reliability increase, businesses that are all built on integrated platform services are emerging.
Industry leaders are leveraging iPaaS technology in the following ways:
Self-service data preparation includes an integration flow, such as creating a reusable data preparation process that provides data to self-service analytics / BI tools.
B2B data exchange: For secure data flow on partner networks. It eliminates the need to write code based on APIs and accelerates the onboard processes for customers and partners.
Sales lead management capabilities: Gather contact information for attendees at live or online events and quickly integrate it into your CMS or marketing automation platform.
Leverage cloud technology: Streamline complex integration flows, improve efficiency, improve resource management, and reduce costs.
Built-in integrated services: Allows customers to handle simple data synchronization and migration tasks without the help of IT teams.
A comprehensive iPaaS solution integrates tools and services into a service-oriented architecture (SOA). With SOA, infrastructure, software, data, and more interact in a responsive ecosystem, displaying everything on the screen for simplification of control. It allows organizations to share resources and information between applications, make ad hoc improvements, and accelerate product time-to-market.
Four functions provided by higher-level iPaaS
The platforms and tools used to build a data warehouse determine how big and how efficiently you can grow. The cloud has an infinite range of data usage and integration, but choosing the right partners and tools from many options can be a challenge. Therefore, we need to focus on four important features:
Easy management of virtual infrastructure -A versatile iPaaS is a locally hosted virtual architecture or industry-leading cloud platform and Integrates seamlessly. Regardless of the current design, iPaaS must be instantly hostable and must be able to take advantage of other cloud technologies without compromising manageability.
Data warehousing and integration -Business intelligence can also drive profit and loss, so the platform of choice must be able to share data with applications, data stores, and more in near real-time. Flexible iPaaS solutions that take into account hot data, cold data, operational data, and ever-increasing data processing will be the baseline requirements for future networks.
Application Development and Continuous Delivery -iPaaS needs to enable in-house development for development teams and enterprise-wide application design, integration, and delivery with cloud tools. By leveraging test and deployment automation, you can maximize the potential of your development team and accelerate the launch of secure, scalable applications that work in any environment.
Security and Compliance -The right iPaaS partners provide critical business security such as fraud detection, real-time intrusion alerts/responses, and easy-to-read audit/report screens. In addition, iPaaS must ensure compliance with industry standards and GDPR as required by the Payment Card Security Standards Council. By conducting mandatory audits and visualizing threats through the interface provided by iPaaS, you can reduce the huge workload of internal IT professionals and greatly simplify cloud integration.
How to Choose the Best iPaaS Solutions Provider?
Choose an iPaaS solution partner who can address the challenges of data integration/business intelligence with a stable foundation for an unlimitedly scalable enterprise environment with minimal budget impact.
Ray Business Technologies provides data agility for all challenges. Our iPaaS integration platform simplifies infrastructure management, turns big data into business intelligence, and is fully prepared for security and risk compliance. Get started now with a free download and see how powerful it is.