How Long Does iPaaS Implementation Take?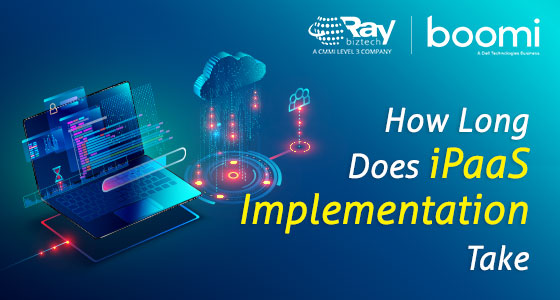 iPaaS platform provides pre-built connectors, maps, business rules and transformations that facilitate the development of applications and integrations.
During the current remote work scenario, the concerned teams are learning how to work together during this situation. During such times, the idea of rolling out a new technology might seem daunting.
Low-Code Solution Integrations
The advantage of an iPaaS product is removing complexity from the digital landscape. Instead of manually coding a drag and drop user interface can be used so that companies can benefit from an extremely easy to use integration system.
A low-code, low learning iPaaS is the epitome of plug-and-play. Instead of lines of code and executables, model-driven integration processes allow non-technical users can easily build and deploy integrations. Often companies hesitate with low code data integration solutions due to the following concerns.
Restrictive.
Create tech debt.
Break easily.
When it comes to iPaaS, these concerns will not apply. It is one of the few digital investments that follow the principle of Occam's Razor. An iPaaS is an easy to use solution that will meet all needs for integrated data.
Boomi's cloud-native integration platform i.e Boomi AtomSphere is built with fast and easy deployment and the platforms speed, scalable and flexible features enable even non-technical staff to quickly start working on this.
Scalability
Speedy implementation is a always a necessary especially in the current scenario. When considering iPaaS deployment, one should look at app ecosystem. An iPaaS not only satisfies your requirements but will be able to scale. iPaaS should be a centralised factor that brings together SaaS applications, on-premises apps, cloud-based services and any other systems. Every single integration should be a smooth, seamless connection.
Connecting them through iPaaS should take days or weeks and not months of custom scripting and coding by IT team. It should be a frictionless and fast moving process with minimal snags
Implementation
An iPaaS cannot be considered as a success unless it serves the needs of the distributed teams. The following questions should be answered:
Are employee workflows streamlined and functional?
Do different business segments have access to previously segmented data?
Is the data reliable, secure, and available to all who need it and when they need it?
A solution like Boomi AtomSphere Platform is designed for quick implementation and adoption. That means employees throughout the organization benefit faster from the greater efficiencies that an iPaaS brings to their work places
Roll Out in days
Boomi AtomSphere Platform that provides low-code connectivity, scalable, and diverse application support can often be scoped in days or weeks instead of months. With Boomi's extensive library pre-built connectors and crowdsource data mapping, the majority of the work is already done. While implementation varies from company to company.
Conclusion
The Boomi AtomSphere Platform connects a everything with cloud-native, unified, open, intelligent platform. Leveraging the power of cloud, Boomi's multi-tenant platform provides all the benefits of the cloud, including flexibility, agility, design patterns, scalability, availability, built-in redundancy, and auto upgrades. Eliminate capital costs and the complexities of maintaining software on-premises and ensure all customers benefit from the updated features and functionality.
About Ray Business Technologies
Ray Business Technologies is a leading global Information Technology (IT) Services and Solutions, a CMMI Level 3, ISO 27001:2013 Certified Company. We are a Member of NASSCOM, HYSEA, NJTC, and AIIA. Ray Business Technologies offers comprehensive end-to-end IT Services for Business Application Development, Enterprise Solutions, Enterprise Collaboration Services, Testing and Quality Assurance Services, Cloud Computing and IT Infrastructure Management to organizations in the Banking & Finance, Insurance, Healthcare, Manufacturing, Retail, Media & Entertainment, Leisure & Travel, Telecom and Energy & Utilities verticals as well as Independent Software Vendors.