How does Boomi AtomSphere Work?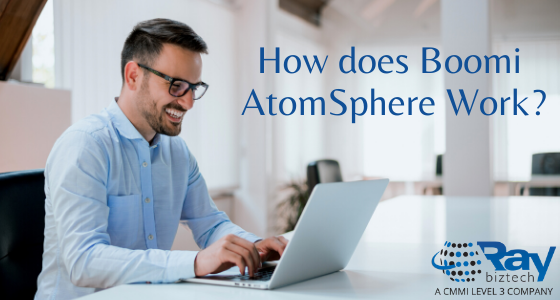 Boomi AtomSphere is a cloud-based platform used to integrate multiple software Apps, helping us to design a cloud-based integration method called Atoms, which allows you to transfer data within your on-premise application & cloud. The Boomi AtomSphere allows you to join any combination of SaaS, Cloud, or on-premises apps without coding. This procedure is configuration-based integration preferably being a code-based integration.
Boomi AtomSphere integration has been classified into three phases
Build Phase: The first phase is where you can design & start executing the integration process.
Deploy Phase: Deployment of the integration method to Boomi Atom. In this phase, Boomi AtomSphere supports 2 types of deployment – On-premise Deployment and Cloud Deployment.
Manage Phase: Here the operations team can control & manage the integration process managing a web-based dashboard.
Benefits of Boomi AtomSphere
Versatility in Integration: Boomi AtomSphere can assist you in a seamless integration of multiple SaaS applications hosted in the private or public cloud with any sequence. Boomi AtomSphere is outlined to assure high performance and availability with the flexibility to use the MDM, AtomSphere, or API Management functionalities in any sequence at any time.
Enterprise-grade Execution: Boomi AtomSphere ensures great availability, performance & scalability with no single point of failure. This inherent interface delivers enterprise-class integration abilities. Implementing a service-oriented architecture or developing web services and all are managed through a simple visual interface.
Ease of use: The drag-and-drop mapping tools in the user interface of Boomi AtomSphere, the wide set of connectors for possible integration in the platform, allow you to build easy to complex integrations immediately between any combinations of apps without the necessity for coding.
Faster time to value: Boomi AtomSphere is originated with intelligence characteristics that can significantly race up the data mapping & resolution of any mistake. With the best methods across their user base, the monitoring tools and centralized management increase productivity and simplify reporting also the audit trails.
Selecting a suitable iPaaS provider: The Boomi integration platform grows the best opportunity for many businesses that resemble an integration partner because of the numerous advanced features and benefits of the Boomi AtomSphere. Ray Business Technologies has a Certified Dell Boomi Developers team who are specialized in enterprise-grade solutions for a diversity of integration needs. If you need to know more about Boomi AtomSphere, Book a FREE consultation with our experts today.
Ray Business Technologies has a verified track record in knowing clients' precise technology requirements as well as willingness for developing platforms such as Dell Boomi. Our consultants and technology developers can deploy & integrate well-managed systems with state-of-art API management also cloud support to convert your business with a proven Dell Boomi integration as well as an integration strategy.