How Boomi delivers beyond Conventional Integration?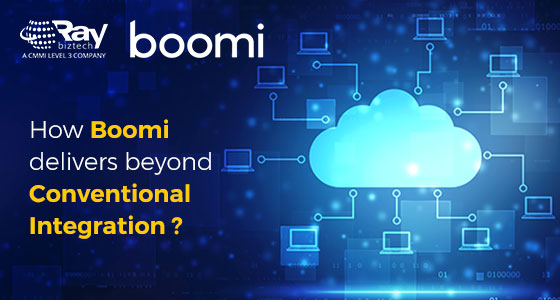 Boomi serves as a unified as well as a comprehensive integration and development platform. Being operationally robust, cost-effective and efficient, it helps enterprises achieve business agility with a seamless connection between data and processes. The prominent integration platform also contributes towards businesses' goals of digital transformation and accelerated growth with value-added capabilities.
The Boomi platform liaises with B2B partner networks, supports data governance, and drives API life-cycle management. The Boomi Atom is more than versatile to drive processes and service runs across thousands of distributed locations.
Consider the Human Resources function and the tasks they handle in a firm. For a multi-purpose and robust onboarding app, Boomi offers the following:
I. Data Accuracy
When it comes to the onboarding of new employees, their data needs to be accurate, and those records must be kept confidential. The databases might be connected to third-party or external apps authorized to share information in a limited manner.
II. Scalability
The onboarding portal is expected to handle the onslaught of hundreds of new employees that are lined up to be absorbed by the firm. As such, the onboarding portal is expected to deliver a consistent performance by scaling up in parallel with the growth of headcount in the organization.
III. Employee Engagement
Connecting with next-gen workforce requires a special medium of communication and keeping the conversation active in ways that suit the millennials. It is good to have messaging capabilities with real-time answers to queries similar to chatbots, thereby enabling employees to navigate through the enterprise.
Boomi Atom: Advantage On-Cloud
Connecting cloud-based applications and keeping data secure on the cloud will be all the more efficient by leveraging Boomi. By deploying a Boomi atom at the concerned data center, data can be kept behind the firewall. Edge integration drives running processes at remote locations such as production venues or retail points can also be accomplished by virtue of the Boomi Atom. For instance, a restaurant would leverage thousands of Boomi atoms for edge integration across its locations to drive data analytics and customer service at far-flung edges of the restaurant chain.
Enabling Higher ROI
As organizations grow and transfer more data and applications to the cloud, the Boomi Atom plays all the more crucial role in helping scale up. According to a research report by Forrester, Boomi offers a 400% ROI on an average with its cutting-edge capabilities across consumer goods, manufacturing, construction, and other verticals – in a study involving six industries. This was achieved by connecting data from disparate systems in a seamless manner.
Value-addition vs Pure-Play Integration
The Boomi platform – as an iPaaS vendor - delivers more in terms of value in comparison with other market players, the study pointed. It offers all the more strategic scalability required across enterprise elements as the organization sails through the growth curve and adds systems to handle functions and people.
On the other hand, pure-play integration vendors that operate in the current application integration ecosystem often claim to be low-cost. Such vendors often lack the flexibility and scalability for high-volume transactions in the long run. This often complicates IT maintenance, thereby draining capital as well as increasing operational overheads drastically.
To sum it up, Boomi offers value much beyond traditional integration platform in several crucial ways:
Enable organizations to deliver consistently with expansion across processes and locations
Process complex business logic around on-premise IT operations by leveraging Boomi Atoms
Deliver business value through integration, driving more scalability across the cloud journey
Leverage best-of-breed cloud applications to handle internal business logic with efficiency
Low-code development for complete data governance, API life-cycle, and workflow automation
Handle business-critical integration projects, thereby freeing resources for vital IT operations
About Raybiztech
Raybiztech is a leading global Information Technology (IT) Services and Solutions, a CMMI Level 3, ISO 27001:2013 Certified Company. We are a Member of NASSCOM, HYSEA, NJTC, and AIIA. Raybiztech offers comprehensive end-to-end IT Services for Business Application Development, Enterprise Solutions, Enterprise Collaboration Services, Testing and Quality Assurance Services, Cloud Computing and IT Infrastructure Management to organizations in the Banking & Finance, Insurance, Healthcare, Manufacturing, Retail, Media & Entertainment, Leisure & Travel, Telecom and Energy & Utilities verticals as well as Independent Software Vendors.