How do financial institutions leverage Dell Boomi platform?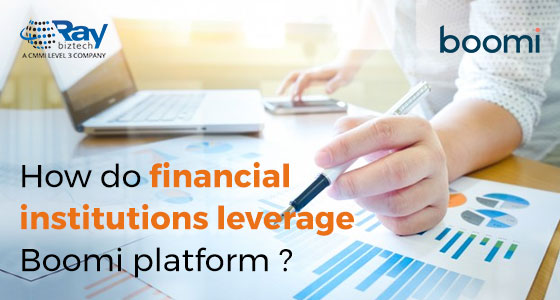 The financial sector is moving at a fast pace towards digital transformation and technology innovation for managing people, data, and processes. The Dell Boomi integration platform will optimize the workflows across banking and financial institutions, thereby reimagining complete transaction cycles and optimizing an omni-channel experience for customers. When it comes to business agility and customer focus, the Dell Boomi platform plays a key role in connecting disparate data and applications. A financial institution will be in an advantageous position to handle market conditions, pressures from competitors, and shift in buyer trends.
Superior Customer Experience
With innovative means of customer engagements across product lines spread across the social and mobile platforms, insurance companies can cross-sell and gain close more deals backed up by rich customer experience. Connecting people with data by virtue of the Boomi platform, marketers are offered a 360-degree view of the customers.
Transition from legacy systems
Enterprises can gain mileage from Boomi-driven workflows as well as master records of all the data by connecting legacy systems to the cloud and preserving the mission-critical investments stored across the respective financial applications. This helps them improve the level of agility and adherence to regulations in a dynamic business environment.
Accelerate entire change management
Integration enables the complete series of changes right from the banking PSD2 revolution to leveraging blockchain and AI. Firms will now be able to quickly merge assets in the aftermath of mergers and takeovers, and maintain the desired level of customer satisfaction and minimize risk.
Refine data security and governance
Firms will be spared most of the concerns arising from compliance and governance issues. The Dell Boomi data quality standards are in line with international regulations and governance framework for financial services, leading to efficient storage and retrieval of clean data across business applications.
Integration driven by futuristic outlook
By connecting a combination of cloud-based and legacy on-premise systems, financial organizations can leverage the benefits of a cloud-native integration platform. Financial institutions and banks have scaled their capabilities in terms of minimizing risk, analyzing profitability, and extending an enhanced level of customer service.
The functional benefits apart, the Boomi integration offers strategic interoperability between several legacy environments, thereby improving agility across financial applications to prepare against acute business challenges.
Firms can create more data-driven insights that enable moving with a paradigm shift and cultivate protection against risk in the niche financial market. Speed, as well as flexibility, will serve as the vital ingredients of the iPaaS Boomi platform.
To sum it up, the Boomi platform offers a bundle of clear-cut advantages
Accomplish integration within a low cost and short timeline
Deploy critical processes at proximity with the customers
Adapt to changing business needs and market dynamics
Real-time insights with critical impact across the business
Single-instant and multi-tenant cloud-based architecture
Integrity and quality of data generated across enterprise
About Raybiztech
Raybiztech is a leading global Information Technology (IT) Services and Solutions, a CMMI Level 3, ISO 27001:2013 Certified Company. We are a Member of NASSCOM, HYSEA, NJTC, and AIIA. Raybiztech offers comprehensive end-to-end IT Services for Business Application Development, Enterprise Solutions, Enterprise Collaboration Services, Testing and Quality Assurance Services, Cloud Computing and IT Infrastructure Management to organizations in the Banking & Finance, Insurance, Healthcare, Manufacturing, Retail, Media & Entertainment, Leisure & Travel, Telecom and Energy & Utilities verticals as well as Independent Software Vendors.