How Dell Boomi capabilities drive Digital Transformation across industries?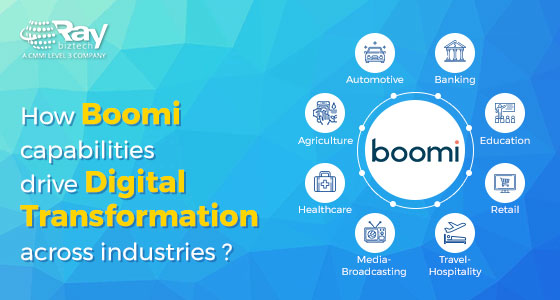 Business leaders are increasingly opting for digital innovation and want to build partnership across industries to offset competition from rivals and establish industry benchmarks. In such a scenario, more and more intelligent platforms have made way for business transformation initiatives that bring a tangible difference. The transformation has happened at three levels or modes: Digital (or channels), workforce (or people) and the infrastructure (IT resources).
Technology blurs the line across industries
It is worth noting IT reinventions taking shape with respect to a particular industry: Healthcare, Retail, or Financial Services.
With the evolving and dynamic business scenarios that offer opportunities for growth, firms have diversified their offerings across multiple domains, sailing into new market segments. For example, retailers are now seen offering healthcare, while telecommunication firms have extended their footprint to banking and financial services.
Digitization helps build an evolving idea, shaping up to a product, which finally ends in the market. It does so by connecting essential components of a business: such as people, applications, processes, and devices; in addition to data.
Dell Boomi
can enable firms to build upon their digital transformation initiatives with a cloud-native platform for the connected businesses. In order to bring speed and agility across the board and utilize the full potential of all resources and achieve excellence, they must have seamless access to hardware, support, and software.
Driving the Digital Boomi
Boomi integration around a strong cloud-based workflow has helped organizations pursue IT reinvention backed upon by more reliable and faster network components, improved bandwidth, ample storage space, and robust devices – all of which lower the TCO (Total Cost of Ownership).
A solid integration strategy simplifies the management task with single-instance multi-tenant platforms that can deliver with increased efficiency and minimal risk. If a business lags an integration strategy that encompasses legacy systems as well as cloud-native platforms, it is more likely that the processes will become obsolete in terms of business agility.
Further, the transformation goes beyond the scope of infrastructure, thereby encompassing data as well as applications. It drives not only the enterprise functions as a whole, but more specifically caters to the performance of IT infrastructure. This is in contrast to bearing the brunt of arrears from legacy integrations that are typical of broken processes coupled with data silos that will not help achieve genuine IT transformation.
Integration: Boomi leads from the front
Firms can now leverage cutting-edge capabilities of physical infrastructure primarily offered by Dell, in addition to the Boomi integration and Flow around the cloud. This helps them achieve frictionless business and IT processes that are hyper-connected and have the ability to perform collaboratively. With effective roadmap and pinpoint deployment of network resources and high-end bandwidth, the Boomi integration platform will ensure native applications can talk amongst themselves, and even communicate with the on-premise systems and cloud infrastructure with higher efficiency.
Hybrid IT with smart API Management
Following the acquisition of Many Who in 2017, Dell Boomi has added workflow service capabilities along with a strong API and Master Data Management (MDM) prowess. An Atmosphere works to ensure stable workflow and API configuration as well as establish communication between distinct workflows, to transform into a well-connected business. People expect cutting-edge connectivity at work, which simplifies tasks and even extends greater autonomy for resources, thereby eliminating major dependencies on the core IT staff.
About Raybiztech
Raybiztech is a leading global Information Technology (IT) Services and Solutions, a CMMI Level 3, ISO 27001:2013 Certified Company. We are a Member of NASSCOM, HYSEA, NJTC, and AIIA. Raybiztech offers comprehensive end-to-end IT Services for Business Application Development, Enterprise Solutions, Enterprise Collaboration Services, Testing and Quality Assurance Services, Cloud Computing and IT Infrastructure Management to organizations in the Banking & Finance, Insurance, Healthcare, Manufacturing, Retail, Media & Entertainment, Leisure & Travel, Telecom and Energy & Utilities verticals as well as Independent Software Vendors.