Dell Boomi The Market Leader in Cloud-based Integration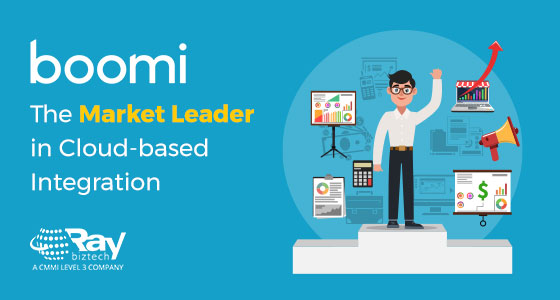 While enterprises are moving towards cloud-based platforms for integrity and operational efficiency, they require a timely and instant exchange of data as well as transactions with the underlying enterprise planning platform. Companies are faced with challenges concerning Constant data integrity, all-time availability, and accuracy.
Most front-end functions will leverage the cloud solutions, which needs to liaise with the ERP. Hence, there is a phenomenal increase in the demand for a truly reliable integration and master data management (MDM) platform to connect between the cloud and on-premise applications. Top management and technology leaders have to take a call to choose between enterprise-wide service bus architecture (ESB) or a Platform-as-a-Service(PaaS) application integration.
Technology experts have discovered a number of bottlenecks with legacy integration tools that no longer stand up to today's dynamic environment in terms of timelines as well as efficiency. Most of these tools relied on 'yesteryear' technologies, so much so that the output and swift performance of a native-cloud iPaaS leaves the legacy of outdated tools much behind.
According to Gartner, about 90% of multinationals investing towards new and large systems will reserve 50% of that solely towards integration, as of 2018. By another two years, in 2020, a greater number of firms will sense the need for cloud-hybrid -premise integration, as less than 20% would rely on single-instance mega-suite strategy. A stable integration strategy calls for a sustainable architecture and workflows that are stable yet adaptable to contemporary dynamic scenarios.
Dell Boomi has been ahead among data integration platforms, being ranked in the Magic Quadrant for Enterprise PaaS in 2014 for the fourth consecutive occasion. The difference in time-lag can be realized by at least a four-fold decrease – from months or years to just a matter of weeks, or even days. So, an on-premise traditional middleware has been trashed and become a thing of the past. It is being noted for the integration practice, the same way as SAP was placed for ERP and Salesforce is regarded in terms of CRM.
Several crucial factors have helped Dell Boomi emerge as a strong native-cloud integration and master data management (MDM) platform:
A leader in PaaS integration with 130 Fortune 500 firms out of 5,300 clients
Fast, scalable, and reliable enterprise-wide integration entirely on the cloud
Boomi Resolve, Boomi Assure, Boomi Suggest capabilities for API management
A thorough analysis of different integration scenarios with economies of skill
All the integration workflows are tracked using a centralized dashboard
Leverage efficient API and master data management with Dell Boomi
Supports 100+ premise/on-cloud Microsoft, NetSuite, Amazon connectors
Elimination of hardware, software, and overhead maintenance costs
Intuitive interface for the most hybrid or complex integration workflows
Dell Boomi has been easy to adapt and is built to reach the top, ahead of orthodox ERP solutions that are too 'traditional' to keep with the pace of innovation, automation, and digitization.
About Raybiztech
Raybiztech is a leading global Information Technology (IT) Services and Solutions, a CMMI Level 3, ISO 27001:2013 Certified Company. We are a Member of NASSCOM, HYSEA, NJTC, and AIIA. Raybiztech offers comprehensive end-to-end IT Services for Business Application Development, Enterprise Solutions, Enterprise Collaboration Services, Testing and Quality Assurance Services, Cloud Computing and IT Infrastructure Management to organizations in the Banking & Finance, Insurance, Healthcare, Manufacturing, Retail, Media & Entertainment, Leisure & Travel, Telecom and Energy & Utilities verticals as well as Independent Software Vendors.