Boomi integration with Salesforce and ERPs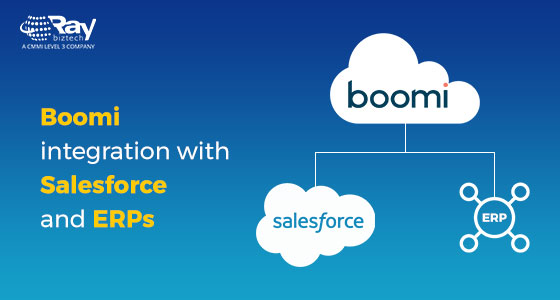 There are more than one ways of integrating Salesforce data into the ERP system, but it is up to integration wizards to make a choice based on crucial parameters like flexibility, data consistency, and project timelines.
As more and more data is generated in the business environment, it needs to be kept up-to-date and accessible to vital users connected across platforms. As projects reach the maturity cycle from a nascent stage, it becomes vital to leverage precise integration workflows on a fast pace.
In order to exchange data with speed and flexibility among the systems, multiple integration flows benefit the users. A stable integration platform like Boomi comes into the picture as a strong contender. Boomi is considered as significant to integration, as Salesforce itself is to CRM.
Nevertheless, we evaluate four possible approaches based on different integration scenarios, in order to enable an enterprise to choose the best.
1. Batch files processing using the FREE Apex DataLoader
The Apex DataLoader is used to transform data into the system on a short-term basis, then performing as a stable middleware solution subsequently. Using a CSV file, one could insert/update/upsert records efficiently, allowing you to have a report on Success and Error files accordingly. A large number of error files generated by DataLoader can be difficult to navigate through. This can work perfectly in the absence of a high number of flows, and if the volume of data is manageable.
2. Real-time Web Services between the Salesforce and ERP
This approach creates an account in Salesforce, as well as the ERP system. When an account is transferred from a prospect to a customer within a Salesforce organization, the same is reflected in ERP in the real-time. This allows functional executives link the CRM account with the updated ERP customer ID, which is crucial in subsequent flows. This approach also involves the role of developers with coding skills, so this method can practically be applicable just for a couple of flows requiring integration.
3. Support for real-time flows as well as batch flows
A Boomi platform will let you optimize the entire integration exercise, and enable support for real-time flows as well as batch flows. The integration platform to connect two systems might be associated with certain licenses and costs. However, for multiple (more than two) enterprise applications, Boomi remains a very viable option. A feasibility check of Boomi application precedes the final decision of a business as to the precise approach for multiple systems PaaS integration.
4. Lightning Connect for Salesforce
This approach leverages OData complex type connectors. The Lightning Connect platform ensures external complex data type is compressed to a string consisting of the names and values of fields. Even if an external object is writeable, the field associated with OData complex type remains read-only, and ensures data consistency during the integration process. This approach also offers an option for limiting the number of items returned, by virtue of the OData filtering logic service.
Thus, one can proceed with the right approach of Boomi integration based on precise data volume and number of flows.
About Raybiztech
Raybiztech is a leading global Information Technology (IT) Services and Solutions, a CMMI Level 3, ISO 27001:2013 Certified Company. We are a Member of NASSCOM, HYSEA, NJTC, and AIIA. Raybiztech offers comprehensive end-to-end IT Services for Business Application Development, Enterprise Solutions, Enterprise Collaboration Services, Testing and Quality Assurance Services, Cloud Computing and IT Infrastructure Management to organizations in the Banking & Finance, Insurance, Healthcare, Manufacturing, Retail, Media & Entertainment, Leisure & Travel, Telecom and Energy & Utilities verticals as well as Independent Software Vendors.