Boomi Integration to revolutionize with AI and Data Sciences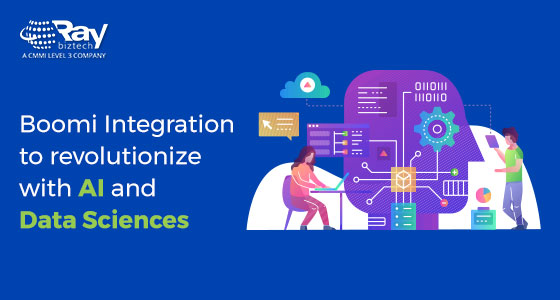 As enterprises need to seamlessly integrate between their systems, processes and data end-points, they are finding and exploring ways to make this happen with utmost effectiveness and minimum of time and costs.
Artificial Intelligence in Enterprise Integration
With new and cutting-edge methodologies backed up by AI to pursue digital transformation, business leaders are increasingly relying on adaptable and scalable integration strategies, with the delivery of some core value-added benefits:
Business users are armed with automotive AI tools to carry out integration tasks in a seamless manner, thereby eliminating the dependency on integration specialists and core IT, developers. This will solve more complex problems with greater ease and maximum efficiency in the pursuit of comprehensive integration of all data-points and processes within the enterprise.
An AI-oriented integration roadmap will offer an intelligent approach towards data integration and deployment by following the directions from configurable and pre-packaged components. The range of modules can reportedly be run with the assistance of bots.
The Boomi platform itself would leverage from the immense potential of Data Sciences and AI. In this context, several capabilities such as conversational AI experience can possibly enable business leaders to connect systems for discreetly designed applications, and then pursue overall integration strategy of the operational state of the entire platform in perspective.
Boomi and Cloud-based Integration
When we speak of the role of Boomi in integration strategy, there are instances of customers being happy with 3-4 days of turnaround time than the entire typical four-week project. This also involves and encompasses the quality of stored enterprise data, along with support for the seamless exchange of information between the database and enterprise application.
Secure Roadmap
A powerful connected platform that can collate data from different end-points can become a reality with the Boomi integration platform. The underlying capabilities can also bypass integrity issues with a well-defined cloud-based strategy that can help firms overcome the challenges posed by silos.
Collaborated Approach
Skilled Boomi developers are poised to coordinate seamlessly - and influence internal IT teams at the same time - towards regular integration routines, apart from their contribution in crucial API management and middleware tasks. The low-code environment is great and comes handy in achieving these specific set of goals.
Managed Service Integrators
Typical Boomi integrations bring data impact issues that could be upstream or downstream. The newer implementation models can offer provision to choose third-party Managed Services from their original provider. This will also ensure the handling and elimination of bottleneck issues to attain a stable enterprise integration with Boomi.
Dell Boomi has thus penetrated potential segments with a view in keeping niche requirements as well as the pace of infrastructure and technology innovation within individual segments.
About Raybiztech
Raybiztech is a leading global Information Technology (IT) Services and Solutions, a CMMI Level 3, ISO 27001:2013 Certified Company. We are a Member of NASSCOM, HYSEA, NJTC, and AIIA. Raybiztech offers comprehensive end-to-end IT Services for Business Application Development, Enterprise Solutions, Enterprise Collaboration Services, Testing and Quality Assurance Services, Cloud Computing and IT Infrastructure Management to organizations in the Banking & Finance, Insurance, Healthcare, Manufacturing, Retail, Media & Entertainment, Leisure & Travel, Telecom and Energy & Utilities verticals as well as Independent Software Vendors.