How do biotech firms leverage Boomi for Master Data Management?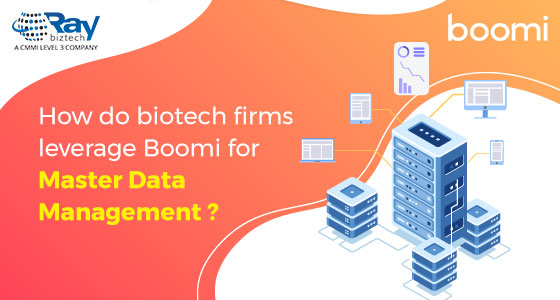 With an onslaught of data traffic from diverse platforms and touch-points, businesses need to develop a reliable and comprehensive roadmap for complete data management across the front-end application powered by a cloud-based integration environment. Dell Boomi offers comprehensive Data Management alternatives for businesses, apart from typical integration benefits.
A rapidly flourishing biotech company was headed towards the adoption of Master Data Management implementation that would suit its commercial needs in line with the technical prowess of the existing application. The firm looked forward to savings in terms of costs by cutting down on platform administration as well as efficient handling of master data specifically pertaining to vendors and users.
By leveraging Dell Boomi integration and master data management, the biotech business was in a position to glue cloud-based applications with database instances across about nine distinct application platforms. The challenge was to keep the architecture simple and fulfill the need for master data set permissions –involving user provisioning with the corresponding set of properties and permissions.
One of the crucial aspects of Master Data Management (MDM) architecture comes in the form of security for the cloud-based master data repository. The repository is protected with secure API scripting for the underlying application platforms. It can serve as an alternative or new Master Data source for Boomi-based integrations. The entire operation also involved a data cleanup exercise, thereby mobilizing customer data stewards as part of the project.
Below are the key instruments that made the project count as successful:
The biotech enterprise transitioned its engine to updated rules for inputs and error-tracking
Conflict-resolution and management with robust UI powered by the Boomi cloud platform
Default notifications for source system updates in addition to direct master data notifications
Boomi AtomSphere invokes user provisioning based on rich connectivity that tracks master data
The implementation also serves as the alternate source for integration Master Data Management
Ensure the valid sets of users carry the designated system privilege with rule-based quarantines
Easy to set up with no exclusive VMW are, along with support for rich and complex data architectures
Assigning user data, employment appointment dates, and user permissions across the Active Directory
Simpler architecture with a single point-of-management for master data towards reduced maintenance
The biotechnology enterprise comfortably transitioned to a new collaboration environment where it had to handle an enormous data on handling hires, defining their roles, augmenting contractor positions, and automate functions pertaining to their terminations and conversions. With a year of support and development, the firm had accomplished a dozen point-to-point integrations in its kitty, in its quest for leveraging best-of-breed cloud-based applications.
About Raybiztech
Raybiztech is a leading global Information Technology (IT) Services and Solutions, a CMMI Level 3, ISO 27001:2013 Certified Company. We are a Member of NASSCOM, HYSEA, NJTC, and AIIA. Raybiztech offers comprehensive end-to-end IT Services for Business Application Development, Enterprise Solutions, Enterprise Collaboration Services, Testing and Quality Assurance Services, Cloud Computing and IT Infrastructure Management to organizations in the Banking & Finance, Insurance, Healthcare, Manufacturing, Retail, Media & Entertainment, Leisure & Travel, Telecom and Energy & Utilities verticals as well as Independent Software Vendors.