Future of CRM in India Maturity of CRM adoptions in Indian SMEs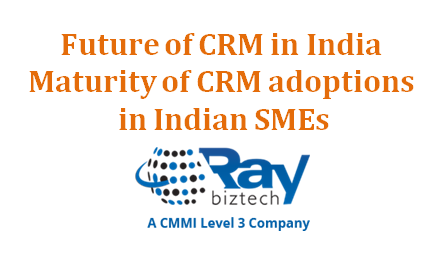 The other day, I needed to rent a cab and I called a cab provider I used from time to time on my cell phone. I was pleasantly surprised when the operator greeted me by my first name and when I mentioned the pickup location, they knew the landmark for the pickup and the booking was so easy that I may prefer to use this cab provider. This experience made me think about the progress CRM applications have made over the past decade in India.
CRM or Customer Relationship Management solutions were pioneered in 90s and adopted widely in the last decade promised to bridge the gap between companies and their customers and deliver high sales and marketing values. However, most of the promise of CRM was not delivered and almost 70% of CRM implementations were never completed.
In India, CRM is still thought of as tele-sales or a call center software. The CRM adoption is still in early stages with financial institutions having the best use of the existing technologies. The next best use is in the retail sector with various loyalty programs in place. However, the most surprising is the lack of proper CRM tools or lack of proper use of CRM in the telecom sector which has can potentially take the best advantage of the CRM tools and technologies.
The adoption and maturity of CRM solutions in India is still in early stages with a lot of opportunities to improve customer experience. Organizations need to look at the CRM with the right mindset so as to take steps in the right direction. There are number of reasons for the lack of CRM implementations or the effective use of CRM tools among Indian SME's:
Lack of understanding of translating business processes into a usable system
Prohibitive costs of CRM solutions from well-known vendors
Use of CRM as a glorified address book by the sales team
Teams still tracking their contacts and leads and interactions in spreadsheets
Sales teams unable to setup proper follow up mechanisms to take relationship with prospects and customers to next level of engagement
Lack of understanding on how to codify prospect and customer nurturing
Sales and service teams not using collaborative CRM solutions to properly screen and prepare for the moment of truth interaction with potential customer
Having a right CRM solution partner and mapping the sales, marketing and services processes with the right tool goes a long way in having a successful CRM implementation in place. Now see few interesting numbers below:
India Total Population: 1.300,000,000
People in Metros: 35% or 455,000,000
Average people salaries in Metros: 10000 to 20000
Total Registered companies in India as 2009: 1,126, 000
% of companies having CRM in place: 15% or 168900 only
Marketing budget of companies for Marketing: 5% to 15%
An effective use of CRM can save 15% of total sales and marketing cost, can increase the sales by 5%, customer loyalty by 30% and can help to retain clients by 15%. These numbers can help companies to increase their profitability manifold.
Mr. Chaitanya Mudunuri is the CEO at Ray Business Technologies, www.raybiztech.com. He has years of experience in CRM space and is also a known speaker for his innovative ideas to enhance profits. He is an MBA from University of Oxford.