Microsoft Dynamics NAV Integration with eCommerce platform Magento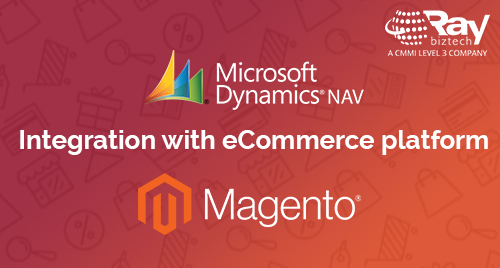 Nowadays, consumers buy everything online - from monthly groceries, to clothes, electronic goods to online jewelry. Consumer behavior concerning buying products is changing; today every consumer goes online to research about their product, compare similar products, review prices, read feedback, and finally makes purchases. No brand today can rely exclusively on their physical store to flourish in today's changing market. Ecommerce has become a great channel for both consumers and brands making it essential for brands to have an online presence.

Magento is leading ecommerce software that enables small and large business to create their online stores. As an ecommerce platform, Magento offers an insightful solution for companies to manage their marketing and sales information and it stores a large quantity of vital customer and product data. As customer interactions can be collected through multiple applications, integrating data between different systems can considerably improve your business efficiency. By integrating Magento data with an ERP system like Microsoft Dynamics NAV, you can easily manage products, stock, pricing, website merchandising, customers, web orders, & product categories.
Various integrations that can be performed:
Order/Customer Integration:
When a buyer places an order in Magento, this integration helps to identify if the order has come from existing customer or a new customer. If the order is placed by a new customer this integration will create a buyer in Microsoft Dynamic NAV & then create the order. Whereas, when an existing buyer places an order, the integration will search for the unique consumer ID in Microsoft Dynamic NAV & then will place the order against the existing customer's ID.
Item/Product Integration:
Various types of products such as, simple, bundle, configurable or grouped can be easily created in ERP system and uploaded to Magento beside the product images and key attributes, special offers, promotions, or discounts can be chosen against a specific product or product group for specific time duration in MS Dynamic NAV that will be seen in Magento.
Inventory Integration:
The inventory data is updated on the Magento from Microsoft Dynamics NAV through integration. When stock update operation occurs in the ERP system, this integration checks the updated product's inventory in ERP system and will fetch data at regular intervals to Magento ecommerce Platform.
Order/Order Status Integration:
Order/Order Status Integration helps to update web order statuses based on sales operation in the backend ERP system in real-time, which reflects the updated information in Magento. This integration will also help to synchronize the orders from Magento to ERP & send order status updates consequently from NAV to Magento, gaining the dual prompts to complete the order cycle.
Payment Integration:
This integration promotes all kinds of online payment options like PayPal, Payment gateways, Authorize.Net, etc. It also helps in taking "Credit Card Information" from a PCI Compliant Magento Shopping Cart & will co-ordinate it back to NAV. In the NAV Sales order, the Online Payment Transaction ID & Payment Method is already mentioned.
About Raybiztech
Raybiztech is a leading Global Information Technology (IT) Services and Solutions, a CMMI Level 3, ISO 27001:2013 Certified Company. We are a Member of NASSCOM, HYSEA, NJTC, and AIIA. Raybiztech offers comprehensive end-to-end IT Services for Business Application Development, Enterprise Solutions, Enterprise Collaboration Services, Testing and Quality Assurance Services, Cloud Computing and IT Infrastructure Management to organizations in the Banking & Finance, Insurance, Healthcare, Manufacturing, Retail, Media & Entertainment, Leisure & Travel, Telecom and Energy & Utilities verticals as well as Independent Software Vendors.