Key attributes every Content Management System (CMS) should have!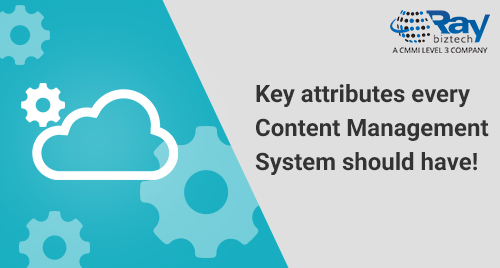 Every organization today requires a CMS solution that helps it to connect to its customers, clients, and employees. There are several CMSs available in the market, how will you decide which one is best for you? In this customer-centric world where data rules all the decision-making, it is necessary for organizations to invest in a CMS that is reliable, consistent and offers scalable results. A CMS goes beyond the basic structure of any web application. It helps you create, edit, and maintain your entire web application content across all the pages in a single interface. It also enhances the user experience for your website by efficiently indexing new content automatically and displaying fresh content to the user every time he lands on the page.

An effective CMS such as Sitecore, Drupal, or Kentico can act as a single tool that will empower you to build seamless digital experiences for your customers. Selecting a CMS can be a tough task, below are some key attributes that your CMS must have.
Content-Rich CMS:
An effective CMS must be equipped with varied content-rich features. A CMS should allow the user to have complete control over the tool. Admin should be able to easily add/remove modules, themes, keep track of all the content helping the user to streamline all the processes at one go in a single interface. Ultimately, your CMS must be intelligent enough to identify any changes made in the content or design. Thus, a content-rich CMS will help in increasing revenue as well as build customer loyalty.
Secured CMS:
It is important to protect your customers' data from any kind of breach. Hence, to have a perfect security management system is must. A CMS should be able to roll out regular security updates automatically.
Multi-platform & Multi-lingual Support:
It is a customer driven market where a customer visits your store /site from anywhere across the globe and through any device. This makes it more difficult for you to maintain a site that looks and works seamless on any device. A CMS should work similarly on all types of devices and should be able to integrate with other systems as well. We are talking about creating exceptional customer experiences globally which means we also need to have a CMS that allows for multilingual support.
Permissions & Control:
Your CMS should allow you to maintain tiered permissions and control to access data. This will help you to define what each level can do with different users designated for different tasks. The CMS should also enable to add new user level and task as and when required.
Content Personalization:
Measuring the content and designing the process according to the content can help in understanding the customer better. An effective CMS should interact with other analytical tools like Google Analytics that will help you to measure, likes, shares and views on your site. Having integrated analytics for your site, will inturn increase ROI and help in creating more personalized content in real-time.
Content Repositories:
These help in segregation of data, which further help in easy viewing of the content. Visitors can easily search what they want, as the data is stored in different sections as per preferred choices made by the customers. This also promotes customized searches for the visitors looking for some specific product. Search makes your customers' lives easier. It needs to be in-depth, easy to use, and fast.

Lastly, you also need to assess future prospects gained through the CMS. Will the CMS allow you to innovate and adapt the rapidly changing customer and digital needs? Will the CMS deliver fast performance even at increasing traffic levels? In addition, does the CMS solve all your pain points?

Considering the above attributes in a Content Management System will help you in transforming the way you interact with your customers.
About Raybiztech
Raybiztech is a leading Global Information Technology (IT) Services and Solutions, a CMMI Level 3, ISO 27001:2013 Certified Company. We are a Member of NASSCOM, HYSEA, NJTC, and AIIA. Raybiztech offers comprehensive end-to-end IT Services for Business Application Development, Enterprise Solutions, Enterprise Collaboration Services, Testing and Quality Assurance Services, Cloud Computing and IT Infrastructure Management to organizations in the Banking & Finance, Insurance, Healthcare, Manufacturing, Retail, Media & Entertainment, Leisure & Travel, Telecom and Energy & Utilities verticals as well as Independent Software Vendors.