Highly Practical Checklist for Evaluating the Best Content Management System (CMS)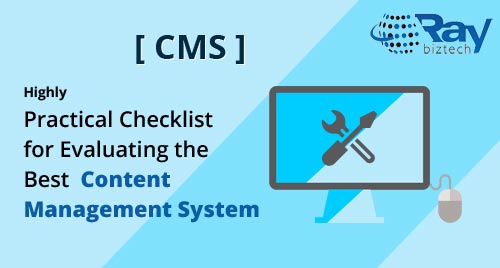 Before rushing to purchase your dream solution, it is highly desirable for aspirants like you to follow the step by step guide for choosing a Crème de la Crème CMS solution of your need. The checkpoints prepared by Ray Business Technologies, a certified vendor for premium CMS, are designed for clarifying your ample apprehensions associated with the pseudo-CMSs obtainable in the market. The handy manual will not only open the window of knowledge on the solution but also prevent the software buyers like you from falling prey of the inappropriate CMS.
Taking Census by Studying the Quizzer for Identifying an Ideal CMS:
Firstly, figuring out the strategic needs for the practical deployment of the Content Managment System (CMS) is crucial. This will help you to determine as to what your business enterprise, SBUs, or management is aiming to accomplish with the CMS. If the results of your contemplations on CMS comes out to be positive you will benefit from it to gain rush-access to information, lead generation, lead scoring, happy closures, e-commerce erecting, intensification of the digital marketing campaigns, hosting online expos, and beyond. Secondly, you must keep accountability of your processes to be collectively synchronized with your IT and business analytical teams to predict the future requirements. Lastly, it is your effort that will consequently impact your choice of selecting a genuine CMS for your organization.
Here Are the Spear-like Questions plus the Wish List Dedicated to the Watchful Buyers of CMS:
Grand Master Plan: What is my plan to ignite the pilot CMS in my website?
Long-jump for Organic Traffic: What is the elasticity of the CMS? Can it caper to cross over 100,000 real and non-paid visitors on my website every month?
CMS Right or Wrong: Is the CMS on top of my mind is right for me or no?
Banking on a Big Budget, Bad & a Booky CMS: Am I establishing blind trust over a suspicious CMS that will dent my business and crumb my finance?
Rapid-run Rate: How soon can I erect the CMS in my website?
Fire Factors & Furious Features: What are the characteristic traits to consider?
Built-in Collaboration Tools: Is the collaborated CMS right for my Off-shore Line-of-Businesses?
Transnational Market Models: Can an engaging CMS allow my organization to protract towards world market?
Multi-channel Publication: Will it offer publishing support for today's emerging social networking communities and consortium?
Customer Storming & Omni-channel Success: Does it provide my online customers with an integrated customer delight?
Sales Burst & Owners Delight: Does the solution exceed my financial expectations and optimize incremental sales?
Hack-proof Tech-infra Environment: Is it free of the malicious security elements for safeguarding my website from being compromised? Is it solidified with stern security to fight under contingency?
VIM Approach: Can I obtain access to vendor's implementation methodology (VIM) for cutting down my risk of choosing an inappropriate suit?
Role-based Permissions for Access: Does it provide private work area for non-disruptive web content development? Can my technical team get password access for this purpose?
Extensibility: Does it have a mature Application Programming Interface (API) or Software Devkit (SDK) to extend my site beyond the fence?
Customizability: How easy will it be to customize my chosen CMS?
Intuitive UI Impact: What do I obtain from the user interface? Can it impact the complex or counter-intuitive interfaces? Which row does the UI sit on the hierarchy of users' needs?
User Friendly Interfaces: Is the UI compatible with my organization's marketers, less- technical or non-IT professionals? How much technical knowledge does my community of users need to run the CMS?
Tri-party Integration: Can it perform third-party native analytical integration-Google Analytics, Omniture etc.
TOC, Value & Worth Assessment: What is the Total cost of ownership or initial purchase cost? What are the licensing models, payment alternatives and ongoing maintenance costs?
Compliance for the Disabled Users: Can it address a range of agreement including the Government websites that are requires to be accessed by users of assistive technology.
Internationalization & Multi Language Translator Support: Can it handle series of sites in different languages at front and back end?
Fail Whale or Progressive Hive: Is the CMS strong enough to perform under pressure across multiple web servers or extinguish with fear?
Migration Mechanism: Does it come with the gears and drivers to migrate tens of thousands of content on my site?
Produce Plentitude of Pages: Can it generate crystal clean, semantic HTML content of web standards?
Single Click Installers: Does it have a 1 click installation or need an army of engineers to make it run?
Formal Accreditation: When was the application had its last security review?
Metadata Framework: Is the CMS underpinned by a robust metadata or need to be managed manually?
Support Microsites for Mobility: Does it support dedicated mobile friendly versions or mobile driven sites?
Redesigning Drills: Can it address limitations and deficiencies in my current website or intranet?
Selection Process: Does the selection process consumes six to nine months?
Endorsed Supplier Arrangement: Is the genuine CMS enclosed with an ESA?
Fully Cloudy or Partially Cloudy Platform: Which of the two cloud options are suitable for my business type? Can I migrate my website to a cloud platform or go with an on premise CMS?
Open-source or Proprietary CMS: Between the two, what is the cuff-fit match for choosing the right solution for my business?
Remote User Touch Access: Does the far reaching CMS have the capacity to connect to the far away users via the internet or a software will house in their device?
Global Traffic Manager: Does it have UA tracking support to auto upgrade to GTM?
Social Sharer: Are the serpentine and satanic social sharing buttons gettable?
Coupling & Complying with SEO: Is the CMS friendly enough to heat up with the SEO? Is it grilled with a comprehensive search engine or need an expensive 3rd party tool?
HTML/XML SiteMap: Is it created and updated with HTML/XML sitemap?
Plight of Performance & Yardstick: What are the standard stats for the high speed performance? Is it wrapped with the yardsticks such as web analytics for managing the site performance?
Caching & Compression: Can it perform integration with cache management tools for the time-critical e-commerce? Does it also obey with the Compression?
Widgetized With WYSIWYG: Is it accessorized with easy-to-edit WYSIWYG features?
Hosting Preferences: Does it allow my website to be hosted outside the CMS company's servers? How do I plan to implement the CMS? Where do I host my sites?
Unparalleled Prospects: Does the online marketing platform get parallel with the patrons and customers from around the globe?
Support Online Tie-ins: Can a CMS bond with my content management, online marketing collaboration, e-commerce, and analytics?
Weaving the Marketing Trends: Will the comprehensive platform keep up with the latest marketing trends?
Clear Winners: Which CMSs are the renowned ones among Kentico, Sitecore, SilverStripe, DotNetNuke (DNN), Drupal, Magento and others on the rack?
Vendor Commitment: Does the vendor's product roadmap provide me with indication on product health, product performance and product repute?
External knowledge Sources: Are there any powerful sources such as the vendor referral sites, vendor showcases, software success stories, scenario presentations, conferences, workshops, and customer testament for my dependency on the marketing technology solutions?
Conclusion:
Thus, a record-breaking CMS is indeed a highly valuable tool for organizations of all sizes. However, choosing a rampant CMS will hamper your pitch to productivity. Taking the time to evaluate your situation before committing to a CMS will ensure that you are purchasing a right CMS for the right reason.