What are the benefits of using Composable DXP for your Business?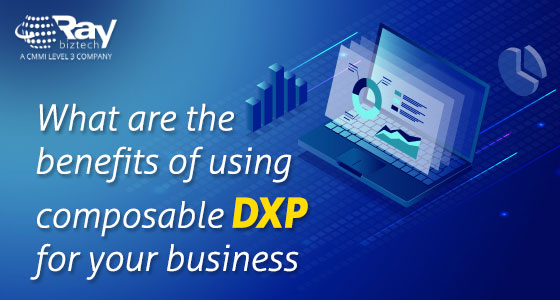 The composable DXP (Digital Experience Platform) is a powerful tool to help businesses create and manage digital experiences. It allows companies to develop, deploy, and manage digital experiences with a single platform quickly and easily. With its flexibility, scalability, and cost-effectiveness, the composable DXP is becoming increasingly popular among businesses of all sizes.
A composable DXP allows businesses to quickly build custom digital experiences without sacrificing user experience or performance. By leveraging existing DXP tools, companies can quickly develop custom applications for any industry or customer segment. Additionally, businesses can reduce costs associated with maintaining multiple platforms by using a single platform for all their digital experience needs. Finally, by comparing different DXP solutions, companies can ensure they get the best value for their money.

Benefits of using composable DXP:
Each organisation will have its advantages and justifications for selecting composable DXP, but to get you started, we've outlined six factors that can make composable DXP the right choice.
Three factors in favour of ease of use

Faster Time to Value
Composable tech architecture is agile, scalable, and quick to change direction. As a result, you can respond quickly to changing client needs and recover investment expenses more quickly.
Best-of-breed strategy
Take advantage of the latest technology. Using a composable solution, you can customise your DXP to your company's needs and choose only the required applications to cover any gaps. In addition, you can select the best technology available for each component, allowing you to respond quickly and economically.
Customer-centric
You can effectively prioritise your clients and create elegant omnichannel experiences with composable DXPs. Building likeability, trust, and loyalty will be facilitated through seamless, consistent interactions and a personalised experience. And you may make the necessary adjustments as you gather data from each customer journey.

Three reasons in favour of technology flexibility
Flexibility when integrating with current marketing infrastructure
Your current marketing stack can be easily integrated with a composable DXP. They are designed specifically for fast deployment. You can move rapidly, be flexible, and have unmatched scalability with Composable.
Specifically designed result
They must align with your audience's preferences and behaviours to produce excellent customer experiences. Customer-centric composable solutions make sure you only employ the features you need and can scale up or down as necessary.
Freedom with technology
Your customer's behaviour and expectations are shifting because of the constant emergence and evolution of new channels in today's environment. You can integrate technologies that improve the consumer experience when you avoid vendor lock-in
A composable DXP is a flexible, user-friendly solution that may help your company keep up with the rapid pace of change.
Our team of Sitecore Certified Developers at Ray Business Technologies has 10+ years of Sitecore experience and offers a thorough Sitecore Implementation Audit. This assessment is meant to help you deal with your Sitecore website's current state, find hidden issues, and decide what preventive steps are necessary to meet your current and future objectives.