SharePoint Enterprise Migration Services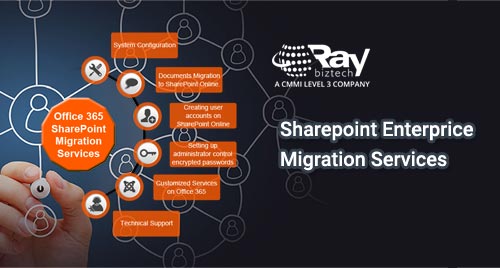 Under pre-conditioned SharePoint environment, SharePoint Enterprise Migration Services are carried out with utmost care. SharePoint Migration Technology helps you plan and move your files or document libraries from existing to the preferred on-premises or private Cloud environment. Migration Services let companies take tremendous advantage of both the hosting possibilities while upholding scalability of the migrated solution. Such a migration or upgrade process generates prospective opportunities for the businesses to flourish under centralized and integrated working atmosphere.
Banking on two of the Most Credible Course of Migration Actions:
Self-service Migration
Administrators or users get the freedom to choose the requisite data or documents to be swiftly migrated to Office 365 within a few hours.
Tool-based Migration
Here, the IT administrators either self-create or buy the migration tool for moving the content to the desired ecosystem.
Dependable SharePoint Migration Tools
The most simple and subtle SharePoint Migration Tool help your solution fast migrate from the on-premise versions of SharePoint, SharePoint on-premises document libraries, files from file shares, OneDrive in Office 365. All of your data and information is brought to the Cloud with just a few little clicks as SharePoint Migration Tool is efficient in supporting smallest of migrations to largest or bulk migration scenarios.
SharePoint Enterprise Migration Services
Raybiztech is proud to be called as the trusted migration partner to provide successful SharePoint Migration Services to high profile organizations (Limited liability companies, Non-profit corporations, C corporations, INC. 500, Fortune 1000, Professional conglomerates, Stock-listed firms, publicly traded companies, and every other global business entity across the multiple industry verticals). Our Microsoft SharePoint Designers and SharePoint Developers assist our clients in keeping up with their rising demands while cutting the downtime without even impacting their IT budget.
Out-of-the-box SharePoint Migration Options One can think of:
Intranet Migration & Redesign
Intranet Migration to SharePoint 2016
Intranet Migration to SharePoint 2013
Migrating 3rd party solutions to SharePoint
Migration to SharePoint Online or Office 365
Hybrid Migration of SharePoint Solutions (On-premises & Cloud)
SharePoint Server 2013 On-premises environment to Office 365
Migrate SharePoint 2016 On-premises to SharePoint Online in MS Office 365
Migration of SharePoint ServerOneDrive from On-premises SharePoint 2013 to Office 365
Taking Steps Forward to SharePoint Migration Services
Step 1: Assessment & Analysis of dedicated Environment.
Step 2: Capacity Planning (Hardware & Software requirement).
Step 3: Evaluation & Verification of Data or Meta Data Structure.
Step 4: Custom Development (for non-transformable Web parts & Solutions).
Step 5: Staging Migration Process (Testing of the changes for error-free migration).
Step 6: Pre Migration Security Matrix Check.
Step 7: Actuarial Migration from old to newer environment.
Step 8: Post Migration Check (Check functionality of the migrated components).
Step 9: Ongoing Migration Support & Diagnostics.