SharePoint Ecommerce Solutions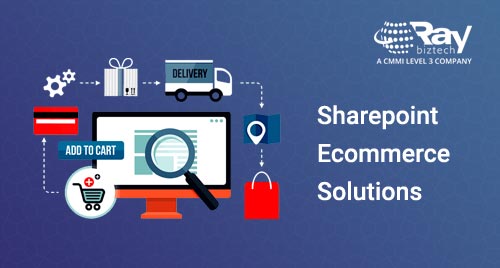 Your professional online store launched using the all-in-one SharePoint E-commerce Solution helps powerful e-commerce pro organizations achieve instant profit returns and rewards. SharePoint Programmers engineering great solutions allow the e-tailers perform better even in the highly saturated ecommerce market segment. With millions of beneficiary users adopting SharePoint has made this suite become the centerpiece of the enterprise e-commerce platform. The collaborative framework is matured enough to be integrated with various solutions for winning customer satisfaction and loyalty from across the world.
Advanced Features & Benefits of SharePoint Ecommerce Solutions
You can discover worthwhile benefits of the unified business ecommerce & fulfillment solution to keep your business rolling all through the calendar. The highly adaptive SharePoint 2013 ecommerce platform and SharePoint 2016 ecommerce storefront solutions tightly connects you with the business community and unlimited virtual online shoppers. Apart from working on the larger file sizes as gigantic as 2GB to the mega-max file size of 10GB, or taking quick advantage of sharing the Web pages, data, folders, documents, or even creating member groups by yourself makes the contemporary SharePoint ecommerce master of all the solutions.
Inserted are the Techno-functional Benefits of SharePoint Ecommerce:
Pricing
Point of Sale
Actionable Business Intelligence Gathering
Easy E-commerce Checkout
Live Shipping
Merchandizing & Catalog Management
Discount Engine
Drive Website Engagement
Huge Search
Financial Management
Enterprise Content Management
Shippable Products Glossary
Promotions
Global Navigation Experience
Enterprise Social
PCI Compliant or Payment Card Industry Data Security Standardization
Shopping Cart, Product Display & Preview
Full insight of business performance
Businesses Enrichment in the vibrant online marketplace
Rapid Information Sharing over the Web
Product Catalog & Category Development
Product Information Management
Multi-currency, Multi-lingual & Dynamic Dashboards
Obvious Revenue & Sales Conversion Rate
Order Management, Notifications & Email Alerts
Business Intelligence
Live Web Browsing Experience
Product Variants & Description