Deployment guide for Office 2013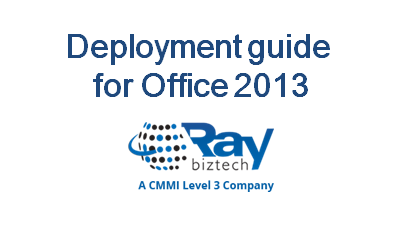 This Guide provides deployment instructions for Office 2013. The audiences for this book include SharePoint Developers, line-of-business application specialists, and IT administrators who are ready to deploy Office 2013. You can use various methods to deploy Office Activation Technologies, depending on the requirements of your organization.Before you deploy Office 2013, you must first decide the activation method for each computer in your organization. These methods include the following:
Key Management Service (KMS)
Active Directory-Based activation
Multiple Activation Key (MAK)
You must make sure that the appropriate product key for your specific activation method is installed on the computer.
This Guide includes :
Volume activation of Office 2013
Articles about volume activation for Office 2013
Plan volume activation of Office 2013 activation methods
Key Management Service (KMS)
Publication of the KMS service
Multiple Activation Key (MAK)
Volume Activation Management Tool (VAMT) 3.0
Volume activation methods in Office 2013
Deploy volume activation of Office 2013
Ref: Technet @ Microsoft.com
About Ray Business Technologies Pvt Ltd
- Ray Business Technologies Pvt Ltd, www.raybiztech.com , is a global Information Technology (IT) Services and Solutions company. Raybiztech offers comprehensive end-toend IT Services for Business Application Development & Maintenance, Enterprise Solutions, Testing & Quality Assurance, Embedded Systems, Cloud Computing and IT Infrastructure Management to organizations in the Banking & Financial Services,Insurance & Healthcare, Life Sciences, Manufacturing, Retail, Distribution & Logistics, Media & Entertainment, Leisure & Travel, Communication, Energy & Utilities, Federal Government verticals and Independent Software Vendors. Raybiztech's innovative IT Solutions in Enterprise Resource Planning (ERP), Enterprise Portals and Content Management (EPCM), Customer Relationship Management (CRM), and Enterprise Mobility including Product Development and Life-Cycle Support, have resulted in significant strategic and cost advantage for their clients worldwide.
Raybiztech is now leading the way in powering next-generation enterprises with its Cloud, Mobility, Big Data and Social Media solutions. Our excellent team of Technology Professionals work with enterprise clients in North America, Latin America, Australia, Europe, Middle East and Asia.